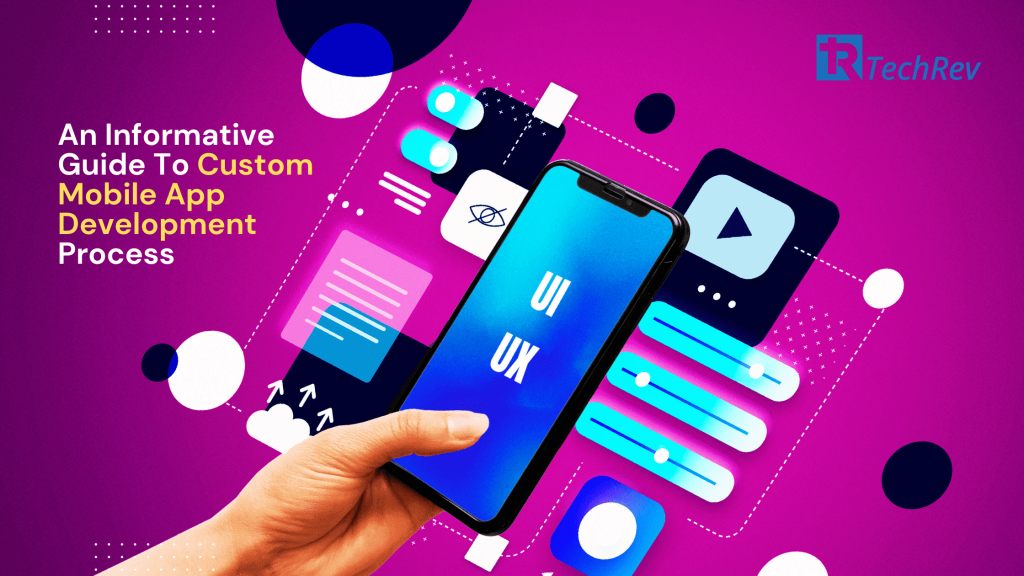 Business leaders and organizations of different scales, including startups, are spearheading rapid changes to their companies. This radical change is driven by technology.
For companies looking to build a strong online presence and interact with their target market, custom mobile app development has emerged as a crucial way. Crafting a successful mobile app requires a systematic approach encompassing strategy, design, development, testing, and deployment.
In this guide, we outline the key steps involved in the custom mobile application development process.
Importance of Mobile App Development
In any situation, including pandemics, application development has helped companies grow and overcome their competition. As a result, mobile app development has seen increased demand. 
Organizations belonging to different industries can enjoy a significant competitive edge with mobile application development. So understanding the entire process of custom software development will help developers learn about the process, and businesses will cherish what they receive.
Custom app development has evolved into hybrid mobile app development. The application will change your business fortunes in this technology-driven age.
Now, if you want to go beyond and get excellent hybrid mobile app development services for your business, choose a reliable organization like TechRev! All your application queries, doubts, and needs will end when your association with TechRev begins.
Before getting custom software development services, go ahead and learn the process and steps involved.
Stages Of Custom Software or Mobile App Development Process
1. Brainstorming
The needs your app caters to, the features it offers, and the location, area, and country where it is deployed, among other things, all affect its success. What issue does it address? Who is your target market and audience? Brainstorm and generate ideas to conceptualize the app's features, functionalities, and design elements.
This stage is necessary for making informed judgments about your app. Therefore, before building an Android or iOS app, brainstorming is required. Additionally, this stage aids in your choice of whether to move on with hybrid, Android, or iOS app development.
2. Identify Your Audience
With this step, you and your company can be sure of the type of audience you need to focus on. You should aim for your target audience based on the type of app you want to develop. Decisions like age group, gender, etc., are finalized in this stage.
3. Business Strategy
After being sure about your app idea and your target audience, you should finalize your business strategy. During this stage, the team should focus on attaining essential business-related clarity, including determining the pricing, devising marketing strategies to reach users, estimating the budget required to gain traction, and more.
4. Core Functionalities And Specifications
With this step, the aim is to gain sufficient and complete clarity on the type of app you are going to present your users with. After this step, you will be going to Android app development or iOS app building, so this step decides your way ahead. In this stage, the team engages in detailed discussions regarding user roles, maps out users' journeys through the app, plans the entire app structure, and defines the specifics and core functionalities of the application.
5. Choose Experts For Your Hybrid Mobile App Development
This is the stage where the entire hybrid mobile app development is planned. You can either go for in-house app building, or you can simply partner with a great software development company like TechRev. Because TechRev eases your app-building struggles with its most successful custom software development projects. So choosing the best Software Development company lets you win half of the battle.
6. Pre-Development
Before the actual hybrid or Android app development, entire project details should be churned out. In the Pre-Development stage, we build either an App prototype or an MVP to create a clear roadmap for the hybrid, iOS, or Android app development project.
7. Development
This is the stage where the proper mobile application development process is started. Either in-house or with the best software development company like TechRev, the development kicks off until the deployment is complete. The steps involved in development are:
Design
Development
Testing
Training
Launch
The Best US Web Development Company – TechRev Is Here For All Your App Development Needs!
So, you might have understood that mobile app development is a lengthy process. For successful results, offer the project to the best US Web Development Company, TechRev, for great outcomes without compromising quality. Get a promising app for your bright organization's future!