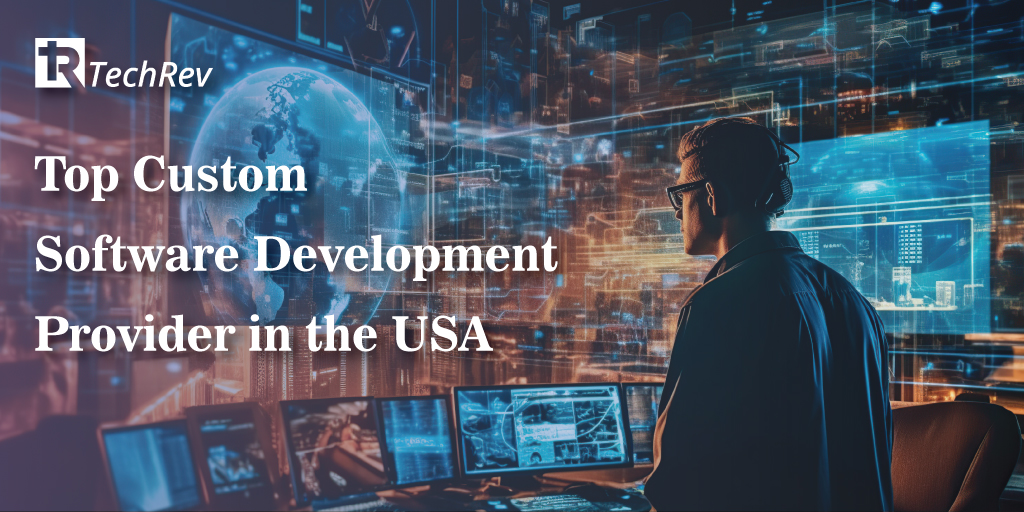 Are you searching for unparalleled expertize in custom software development in the USA? Look no further than TechRev, the leading provider of top-notch custom software solutions. Innovative, tailored software solutions are paramount for thriving businesses, including startups, SMEs, and large-scale businesses. 
TechRev is an avant-garde custom software development company that doesn't just create software but crafts digital revolutions. Standing tall among competitors, TechRev stands proudly among the top 10 software companies in the USA, celebrated for its remarkable quality and client-centric focus. It embodies expertize, reliability, and a diligent effort to transform concepts into cutting-edge applications and software.
Custom Web and Mobile App Development
TechRev stands at the forefront of the IT market, boasting an extensive portfolio adorned with successful projects. We specialize in full-stack custom web app and software development, catering to a spectrum ranging from Fortune 500 conglomerates to nascent startups. What sets TechRev apart is its ability to metamorphose any concept or design into a trendsetting mobile app within stringent timelines.
Hybrid App Development
Harnessing the power of cutting-edge technologies, TechRev's prowess extends to hybrid application development, ensuring scalability and security. Proficiency in creating highly functional hybrid apps elevates business prospects and user experiences. The team's international expertize fortifies its capacity to deliver bespoke software solutions that hold significant value.
Networking Infrastructure and Domain Expertize
TechRev's IT consulting services encompass a comprehensive network assessment, tailoring smart and cost-effective system recommendations to meet specific client requisites. Our core focus lies in developing tailor-made software solutions that amplify organizational efficiencies across various sectors, including pharmaceuticals, healthcare, government, manufacturing, e-commerce, and finance.
E-Commerce Solutions and Client-Centric Approach
In the realm of e-commerce, TechRev's customized solutions not only enhance service quality but also foster long-term customer retention. Our dedication to creating world-class applications for diverse industries underscores our commitment to personalized, high-quality service delivery.
TechRev Offers Exceptional Custom Software Development Services
TechRev stands as a paramount choice for custom software development due to its unwavering commitment to excellence, innovation, and client-centric solutions.
Expertize and Proficiency
At TechRev, expertize reigns supreme. Our team comprises highly skilled coders and industry specialists with a wealth of experience in crafting tailored software solutions. Their proficiency extends beyond coding; they understand the dynamics of diverse industries and translate that understanding into high-performing software applications.
Innovation-driven Solutions
TechRev thrives on pioneering technology, staying abreast of the latest advancements, and implementing cutting-edge methodologies in every project. We don't settle for conventional; we push boundaries to yield solutions that set new standards. That's why we stand out prominently as a top-tier software development company in the USA, delivering cutting-edge solutions tailored to diverse business needs.
Tailored Solutions Across Industries
Understanding this, TechRev offers custom solutions tailored to specific industry needs. Whether it's pharmaceuticals, healthcare, government, manufacturing, e-commerce, or finance, our team crafts software solutions that precisely meet the unique requirements of each sector.
Client-Centric Approach
Our development process is transparent and collaborative. Each project is infused with a client-centric approach, ensuring that the client's vision is realized while exceeding expectations in terms of quality, timelines, and cost-effectiveness.
Cost and Time Efficiency
Choosing TechRev means getting premium software solutions and enjoying significant cost savings. Our efficient methodologies and streamlined processes enable clients to save more than 50% of time and costs while ensuring top-notch results.
This underscores the key reasons why TechRev shines as the go-to partner for custom software development, emphasizing its strengths and client-focused approach in delivering exceptional solutions.
Share your creative idea and witness it transform into a technological masterpiece!
Why Choose TechRev for Top Custom Software Development Services?
A highly skilled development team with many years of industry experience.
Knowledge-driven solutions that push the boundaries of innovation.
Significantly reduced time and cost for clients.
Transparent communication, prioritizing client satisfaction at every stage.
We create state-of-the-art mhealth apps, healthcare apps, business applications, fintech software, eCommerce software, and many more.
Accelerate Your Growth with the Best Custom Software Development in the USA Today!
TechRev isn't just a software development company; it's a catalyst for digital transformation. It is the ideal choice among startup software companies in the USA, offering innovative solutions and dedicated support to propel emerging businesses forward. With a penchant for excellence and a track record of innovation, TechRev emerges as the beacon guiding businesses towards unparalleled success in the dynamic landscape of custom software development.
Invest in TechRev and witness your ideas transform into monumental success! Request a consultation now!