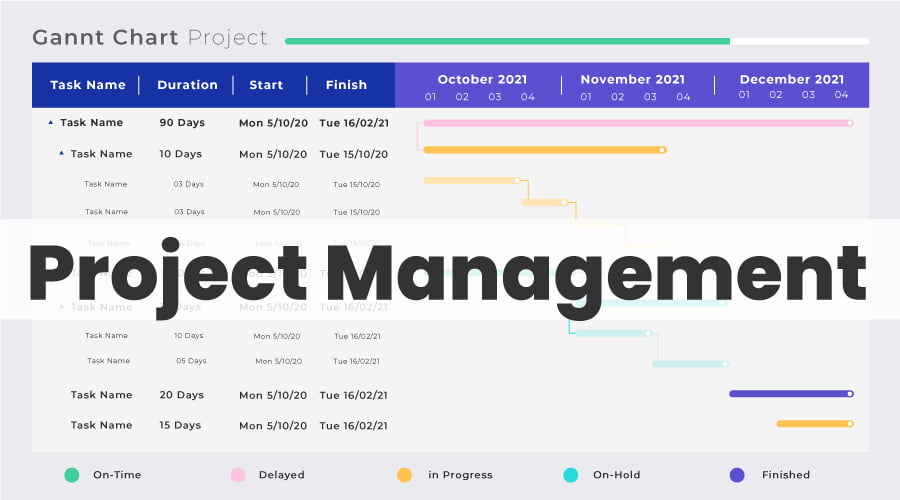 Businesses large, medium and small always juggle multiple plans, agendas, assignments and people. Having a constructive and robust solution enables organizations to keep everything well organized throughout the project life-cycle. With an efficient PM Software, an organization can handle multiple projects in an accurate and ROI-generating manner.
The benefits of project management software are limitless.
However, with time, technology evolves and the characteristics of project management are no more confined to pen and paper.  Now a PM software is utilized for project planning, time-management, resource management and change management.
Project management software is a vital tool that helps a business stay in control all the time.
3 Important Methodologies of Project Management:
Project Management methodologies define key ways to handle projects. Here we are giving ideas about the top project management methodologies:
A. Waterfall Project Management Methodology:
This methodology is the most common way to establish a plan for the entire project. It's a sequence of assignments that lead to a final deliverable. Teams work on these assignments in order.
The waterfall methodology is the conventional methodology of managing projects and it's the simplest methodology to understand.
B. Agile Methodology:
Agile PM methodology has become highly popular due to its rapid pace of innovation and super competitive environment. An Agile Methodology always focuses on a shorter development cycle and flexibility.
The core of this methodology is framed with four crucial values:
Individuals and interactions get more priorities over tools and processes.
Working solution over comprehensive solution documentation.
Customer collaboration is more valued than contract negotiation.
Responding to changes is encouraged over following a specific plan.
Examples of Agile frameworks are scrum, kanban, extreme programming and the adaptive project framework.
C.The Change Management:
This methodology pays a major focus on change management. It involves proper risk planning and taking control of all the underlying changes.
The popular methods include Event Chain Methodology and Extreme Project Management.
Crucial Benefits of a PM Software
The sole objective of a project management solution is to make the lives of project managers convenient as they handle multiple projects at a time. From making the project plan, resource management, project teams' collaborations to finance, report creation and billing, you can manage the entire life-cycle of a project.
Here are the crucial benefits:
1. Efficient Project Planning
Most organizations waste a significant amount of time in project planning. A PM Software helps you to get an accurate AI-based prediction of the project completion time. It keeps tabs on all the crucial elements like cost, scope and schedule.
An advanced project management tool always comes with the automation feature when it comes to planning or scheduling a project properly.
Apart from building a solid foundation for the projects, such tools also help project managers to set milestones, deliverables and roles before executing the projects.
2. Improved Resource Management
When it comes to delivering a project on time, it's really important to have a proper resource management strategy that keeps teams in harmony without overloading them with lots of assignments with short deadlines. A resource management feature available in project management software always promotes a healthy standard of work. A project management solution developed by a custom web application service always helps you spot the resource-related challenges and gives you insights on when to onboard more people onto a team.
3. Pipeline Forecasting
Usually, a project manager has to manage several projects efficiently at the same time. An organization can become more productive and generate more revenue by taking more project initiatives and running them simultaneously.
However, organizations often face difficulties due to the lack of visibility into the overall progress status of multiple projects and resource allocation. Project management software keeps everyone aware of the exact real-time project status- planning, running or completed. With efficient project management software, an organization can avoid all kinds of project-related bottlenecks.
4. Excellent Team Collaboration
Another great benefit of implementing a project management solution is having an improved team collaboration structure. Each team is designated with a specific task when it comes to completing a bigger project. Project management software helps an organization structure a collaborative method for teams so that they can discuss assignments, deadlines, dependencies and performance. It ensures that project teams know what to work on and have the priority list ready to execute.
5. Highly Efficient Project Cost Management
The progress of any enterprise greatly depends on how efficiently it can deliver within the specific budget provided. A vital feature of project management software is budget management. It manages the budget from the starting point of a project to the last stage of final delivery.
The budget forecast feature of a PM tool gives you a complete birds-eye view of each project's financial structure. It helps you track planned and actual spending as well as identification of areas where you are making a profit or burning money.
6. Effective Structure of Meeting Reporting
Regardless of the size and nature of the business, when it comes to achieving the milestone, monitoring the work-progress is crucial. PM tools allow project managers to monitor each stage of a project. It also tells you whether the projects will be completed on time or not.
Making the right decisions with a project management tool is easy, as you have every nitty-gritty detail of your project in one designated place.
7. Sound Internal and External Communication
An advanced project management solution helps organizations develop communication channels for both the internal teams and external clients and stakeholders. For example, document sharing is a common feature that allows people to find all necessary and relevant information.
With project management software, you can provide your clients with the flexibility to log in and view all the data related to specific projects. Clients can also provide feedback, make edits and see the progress of the project in one place.
Conclusion
These excellent benefits of a customized project management solution can make your organization super productive and high revenue-generating. If you are looking for one of the most appropriate project management solutions for your business, choosing custom web app development services offered by TechRev will be your best decision.