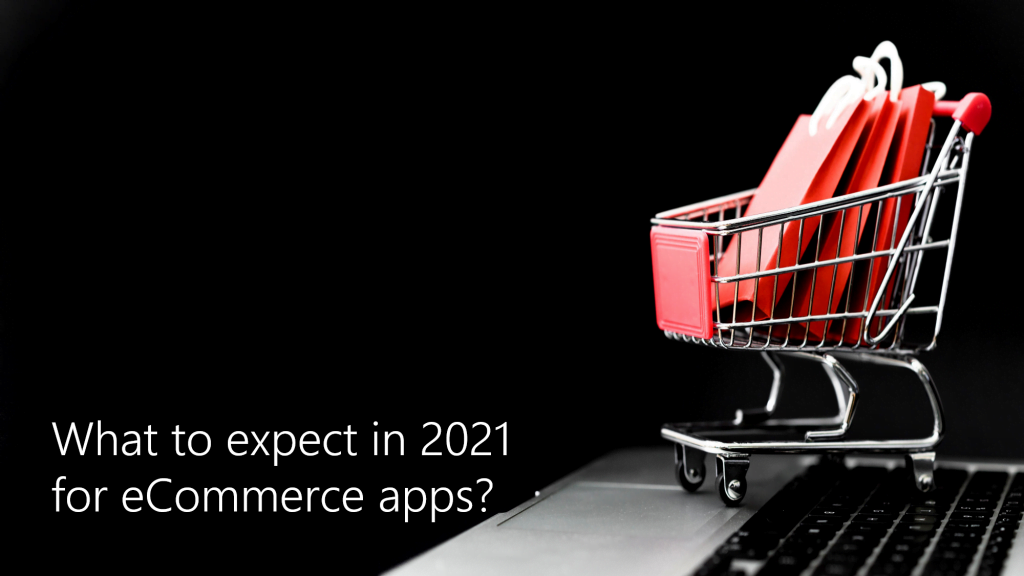 2020 highlighted the need for businesses to sell online. With all that's going on in the world, an online presence is more than important for businesses to stay in touch with their customers. And the good news? Selling isn't difficult either. However, it's a new year and a new decade. And from the way people have been shopping online last year, it's evident that eCommerce is gearing up for some BIG changes. Even though folks have been trying to push eCommerce since the last decade or two, at the end of the day, what businesses focus on is where eCommerce is now and where it's going. So let's take you on a trip down the prediction-lane.
So what does 2021 behold for the eCommerce application trends?
1. Social Commerce – Optimize the reach
Social Media is one of the trendiest channels to generate sales. Brands promote their products on Social Media to gain exposure and build awareness. With the activation of Instagram Shop and Facebook Marketplace, brands are already leveraging social media eCommerce.
Although social media is big on traction, it's equally challenging to convert social traffic into sales. Hopefully, brands have become familiar with the fact that 'blowing-our-own-trumpet' alone won't do it. So there's a high potential brands will up their game to create quality content and more engaging posts for social media to build credibility.
2. One-click ordering – One the move
Check-out processes can be tedious, lengthy, boring and sometimes confusing. To avoid that, payment gateways have been simplified in the last couple of years. Over a decade ago UPIs were hardly an option and Credit Card fraud was most common. Hence, to ensure a successful, safe and convenient transaction, one-click ordering has been the #1 choice of customers who shop frequently. Anyhow, it's not yet on the pinnacle of app development, but more progress on one-click ordering also involves saving your data which includes a credit card number and other private data. Developers are working on eliminating any threat that could harm the swift eCommerce experience.
3. Voice Shopping – Tell me about it!
AI Chatbots and assistants like Google Assistant, Siri and Alexa have become popular over the years. The quirky solutions and on-point answers are some of the most interesting reasons for people to ask them anything they are looking for. At first the voice search was only done for weather, time, messaging or small navigation gestures, but the eCommerce market has witnessed a boom via voice shopping and it also had a significant impact on mobile commerce. Portals instantly developed options via iOS application development, or Android solutions to integrate AI-friendly searches to improve their sales. The way applications are being developed, it's evident we are going to have much more progress this year.
4. Mobile chatbots – AI shops for you?
One of the most advanced developments in machine learning is Chatbots. It's at the crux of AI capabilities and serves a better, faster and much-simplified version of a brick-and-mortar salesperson. Chatbots, on most of the eCommerce portals, eat cookies from your browsing history after your permission. This results in offering personal attention and thoughtful recommendations based on their responses. AI Chatbots for iOS application development is a steep learning curve due to its security system, while the applications specifically developed for Android offer boundless flexibility.
5. VR & AR – Reality is Virtuality
VR & AR have become the major game-changers in regards to online shopping as well as interactive UI/UX. While shopping online, augmented reality has considerably bridged the gap of ambiguity. Most of the eCommerce solutions in iOS application development have the option to provide online shoppers with AR/VR. It helps online shoppers visualize and see the product just like in real-life. Accessory stores such as glasses or jewelry provide an option to immediately see how shoppers will look while wearing the product. This eliminates any doubts online shoppers have regarding the new product.
At the end of the day, eCommerce apps will continue to thrive and play a significant role in every shopper's purchase experience in the foreseeable future. As a company that helps businesses develop their eCommerce apps using iOS app development solutions or on the Android platform, we know how important it is to keep a close eye on the trends so you don't have to. If you are looking forward to learning more, sign up for our newsletter and get updated every time we upload a new blog.