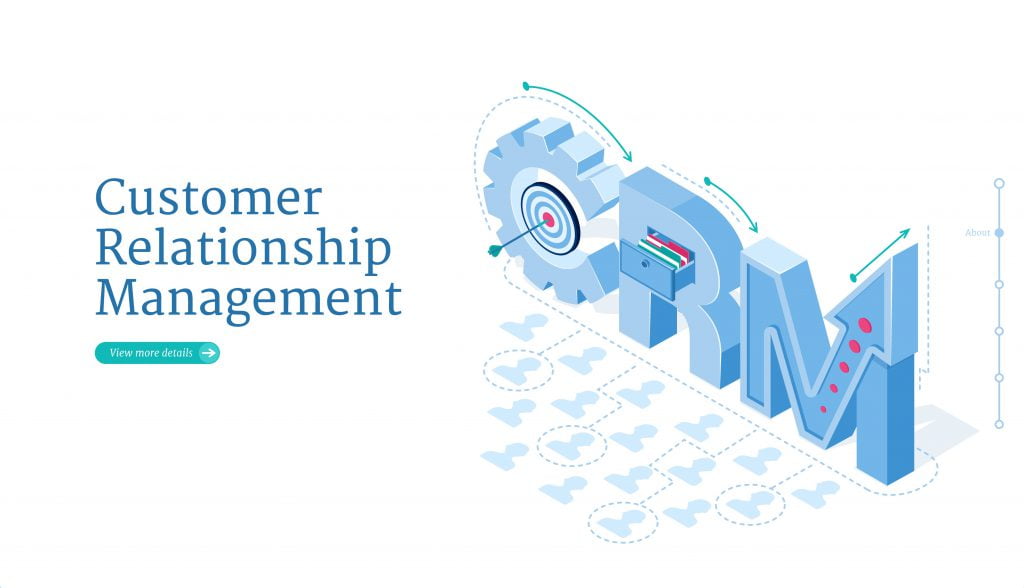 CRM (Customer Relationship Management) is the process of analyzing interactions with the past, existing and potential customers. Its process and software help users to develop strategies to analyze customer data and boost sales growth.
It's time to know how we define CRM:
Customer Relationship Management is a comprehensive strategy that involves managing an organization's relationship with existing and potential customers. The sole objective of a CRM strategy is to increase the overall profitability of an organization.
When people talk about CRM, they associate it with software that enables a business to seamlessly run activities like contact management, sales management, workflow system management, productivity campaign management and more.
It enables you to focus on your company's relationships with individual people-be it customers, service users, co-workers, suppliers, or vendors.
Why does a CRM solution matter a lot?
If you're planning to run your business for a long time, you need a well-defined future strategy. You may have projections and targets related to sales, business performance and profitability. But staying up-to-date with the regular progress towards your objective can be a challenging affair.
You have multiple streams of data coming from the sales team, customer service team, digitial marketing team and social media, but you should have a strategy ready to convert this data into useful business information. This is where CRM software plays a significant role.
A CRM tool developed by a custom web app development solution provider like TechRev can give you a comprehensive overview of your customers so you can find everything in one place. A customized dashboard can show you the complete customer's interaction and history with your company which includes order status, customer services issues and more.
A customized CRM solution also allows you to include your customers' social media activities. You can see their likes and dislikes. The marketing team can use the CRM tool to increase forecasting accuracy based on customer behavior.
CRM has become a tailor-made solution that allows businesses to make data-driven decisions to give a boost to overall sales growth.
Are you planning to integrate a perfect customized CRM solution in your business? You should know the CRM trends this year. It will help you to understand exactly what kind of CRM solution can meet your requirements.
Now this article is going to tell you about 5 crucial trends in 2021
1. Artificial Intelligence will play a crucial role:
When it comes to personalizing the customer experience, smart tools analyze a huge amount of data. Customer Relationship Management software enables a business to have access to data from different touchpoints. Different departments like sales, marketing, customer support can use this data to develop an improved business strategy to boost sales revenue.
Businesses can now expect to have AI-powered platforms that can show real-time customer behavior including their buying patterns.
According to a research report published by Salesforce in 2017, AI-powered tools would increase global business revenue by 1.1 trillion dollars by the end of 2021. CRM will enable businesses to automate the tedious and time-consuming manual jobs so employees can become more efficient and productive.
2. Businesses can have sufficient Customer Relationship Management tool options to choose from:
Salesforce indeed rules the market, but there are other well-known companies like HubSpot, Zoho, Keap and Less Annoying that also provide excellent services to businesses. This year, businesses can expect to embrace their own fully customized solution developed by the leading-edge web app development services offered by technology organizations like TechRev.
3. CRM will be integrated with Voice and Conversational User Interface:
Voice technology will play a significant role in CRM solutions. A study conducted by Adobe has revealed the fact that 94% of users find voice technology easy to use and time-saving. Thus, it improves the quality of the customer experience. More CRM solution providers are expected to embrace voice technology into their operational processes.
4. Customer Experience will play a crucial role:
According to a survey conducted on 80,000 global customers by Salesforce, 84% of customers believe the experience that a company provides is equally important as its products and services.
User-friendliness will be the critical feature for Customer Relationship Management software this year. CRM solutions are expected to provide a more personalized experience to their users. CRM providers have already started working on the targeted selection and intelligent segmentation ideas.
5. Mobile CRM will be in limelight:
The huge advancement in smartphone technology has reshaped the way businesses operate. Customer Relationship Management solutions will also evolve to stay in-sync with the dynamic nature of digital technology. Working from home has already become streamlined in the majority of businesses. Customer Relationship Management resources must be easily accessible online by all the stakeholders of a business. This calls for an increase in mobile-friendly features offered by CRM platforms.
Conclusion:
Intelligent automation and user-friendliness are expected to play major roles in the CRM market in 2021. If you are on the lookout for the perfect customized Customer Relationship Management software for your business, TechRev's custom web app development service could be the best help for you.