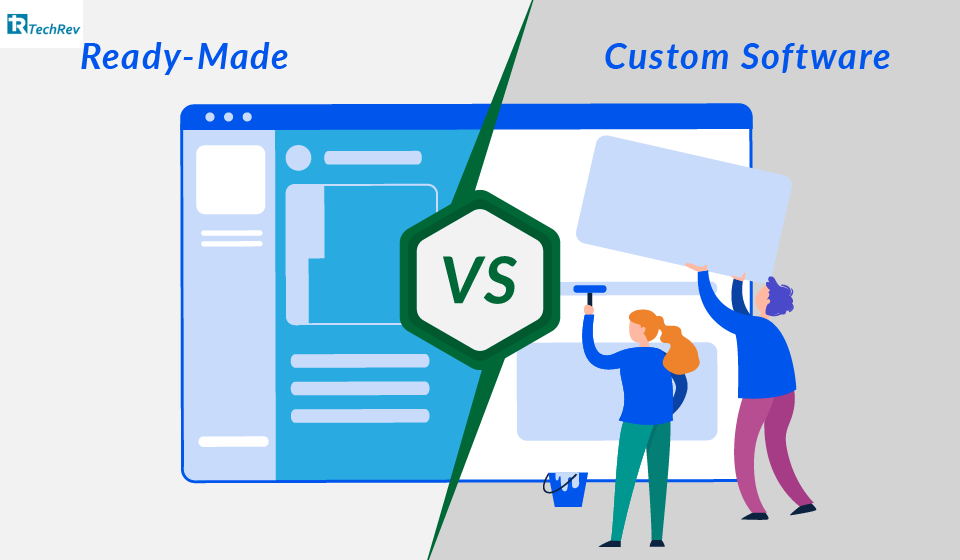 Technology is undergoing constant and rapid change, and businesses need to catch up. Companies should strive to stay relevant in every aspect, or they will be left behind. The changes in technology, trends, and markets demand a shift in a company's software requirements. These immediate needs can be met through the availability of custom software vs. ready-made software solutions.
TechRev is one option that can help you navigate the ever-changing software landscape. All your software application demands can be effortlessly met by the best custom software development company and its team of professionals. However, choosing between custom and ready-made software options can be confusing. 
Here's a study of the differences between them to facilitate easy and efficient decision-making.
Ready-Made Software Solutions
Ready-made software, also known as off-the-shelf software, is a readily available software application option for customers. Usually, many software companies and professionals immediately opt for it as they are familiar with the terminology and workings of pre-made software. However, such software cannot be tailored to suit the ever-changing needs of customers.
Companies should consider the following points before choosing off-the-shelf solutions:
Limited customization: You cannot easily customize pre-made software to align with your existing business model. Its rigidity might hinder your business operations.
Technological limitations: Off-the-shelf software lacks advanced technological improvements and trending enhancements, as they are built on previously existing specific technologies.
Integration challenges: These software applications cannot be easily integrated with other existing apps in your business due to their highly restrictive nature.
Costly maintenance and support: Regular maintenance and round-the-clock technical support are important for any application. However, with ready-made software, these services often come at a high cost.
Limited control and features: SaaS platforms, which often offer ready-made software, provide limited access and control to customers. As a result, the control and storage of their data may be unknown to customers. Additionally, these platforms may have limited features that restrict control over internal and external business processes.
Disturbing branding and promotional emails: Pre-made apps from unreliable vendors may display disturbing branding and promotional emails, affecting the user experience.
Security vulnerabilities: Off-the-shelf software is vulnerable to cyber and virus attacks. Over time, these software packages can accumulate traces of viruses, requiring users to be cautious about their software's security.
Limited vendor relationship: Customers generally do not establish a long-term relationship with vendors, treating them as just another customer when they obtain ready-made software.
Vendor-dependent updates: Vendors are responsible for creating updates and themes for the proper functioning of the ready-made apps, leaving customers reliant on them for essential updates.
Workflow limitations: Many off-the-shelf apps may struggle to handle heavy workloads, requiring effective workflow management.
Custom Software Solutions: Beyond Off-the-Shelf
When companies aspire to achieve long-term goals and secure a bright future, they often opt for bespoke software or custom-tailored software solutions. 
According to a study conducted by Forrester Consulting, 67% of businesses acknowledged that custom applications have significantly enhanced their overall business operations.

Therefore, when deciding to invest in custom software development, companies should carefully consider the attributes highlighted below.
Smart Investments: What Companies Need to Know About Custom Software Development
Complex development and implementation: Custom application development involves complex processes that require the involvement of management and employees throughout the company. Together, they hone and implement custom or tailor-made software.
Turnkey solutions: Custom or enterprise software app development offers comprehensive solutions for companies, from development to deployment.
Platform versatility: Custom app development companies can create bespoke apps for both native and cross-platform applications. Customizations for iOS and Android software apps are possible.
Flexibility in themes and features: With custom app development, businesses have the freedom to select themes and features according to their specific needs.
Cost considerations: Custom app development can be more expensive due to the possibilities it offers.
Complete control: With custom software, you have complete control over the software you possess.
Holistic support: Development companies provide comprehensive support and assistance to customers during and after the custom software app development process.
Quality control: The biggest advantage of bespoke software app development is that a dedicated quality control professional team identifies and resolves issues to improve your business.
Adaptability to market trends: Modifying bespoke software to meet changing market needs and trends is easier for your business. You can embrace various technological advancements with total flexibility and scalability.
Supercharge Your Business with TechRev's Bespoke Software Solutions
You can analyze and decide which option suits you best or simply contact TechRev for efficient software applications. In a changing business landscape, ever-growing tailor-made software solutions are the right choice. 
Contact TechRev today for the best custom app development software!