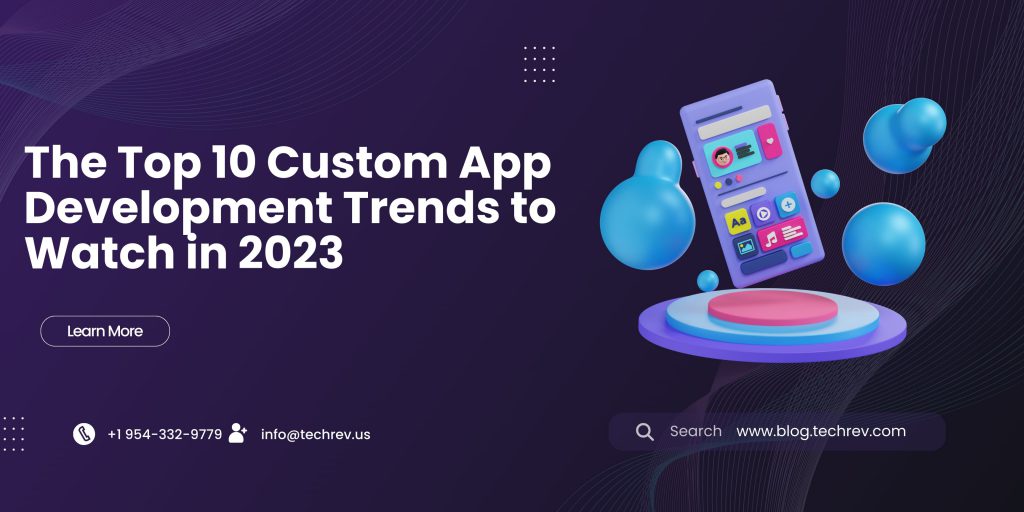 The trend of using software apps has sparked a new wave of obtaining and deploying software apps through custom app development. This modern approach to software app development methodologies allows companies to explore new avenues, particularly in hybrid mobile app development. Companies in every industry are witnessing significant changes and shifts in market dynamics and consumer behavior. These changes directly influence both companies and customers in a proportional manner.
If you want to improve your business prospects through customized mobile app development, stay ahead with the latest custom app development trends in 2023 with TechRev! We offer top-notch mobile app solutions as mobile app development continues to grow
Latest Trends In Custom Mobile App Development 2023
Progressive Web Applications [PWAs]
Web applications that are aimed at creating a larger ecosystem. This Empowers users to use a wide and focused range of apps with simpler and easier plug-ins, cache push APIs, and even web usage. Even when the internet connection is low and slow, integration and usage become easy with PWAs.
Cross or Multi-Platform App Development
The time of separate iOS and Android app development has gone by. Designing and deploying apps aimed at multiple platforms at the same time is the present and ongoing trend. The pain of converting codes to suit the requirements of different platforms is now extinct. Hybrid mobile app development stands out as one of the enduring and dominant bespoke mobile app development trends in 2023.
Cloud Technology
With the benefits and cutting-edge advantages that cloud tech brings to every company, more and more companies started using cloud tech and their platforms and networks. The approach of cloud-first by the companies empowers all the companies to get quality app development solutions at lower prices. Also, the scalability and advanced solutions can be provided as a deep range through cloud tech-based apps.
Big Data
Apart from close tech, even big data computing is enjoying growing popularity and Importance. With the increased usage of a plethora of gadgets and mobile devices all around the world, data collection has grown in prominence. From consumer behavior to user experience, the data collected from the customer's usage is defining consumerism and the mobile app development surrounding it.
Voice Commerce
Searching for products and services online through voice searching is voice commerce. The modern way of passing voice commands to perform commerce is voice commerce, and different mobile apps have started implementing it. Modern apps are equipped with voice command functions to carry out activities and use their features. Soon the usage of features through voice will be more than before.
AR-VR
Augmented Reality – Virtual Reality is there to offer more realistic, enriching, and immersive experiences to customers. This will act as fuel for better customer experience and excitingly interactive app usage. The scope of AR and VR is more, and in the coming days, more apps are going to use it in the most exciting ways.
Adopting DevSecOps
You might have heard about DevOps and how leading the technology is. Now better security is added, and the impact has increased, resulting in DevSecOps. The security aspect was missing from DevOps and with DevSecOps the applications that can be designed and deployed will be flawless.
Ecom App Development
E-Commerce is encouraging a lot of consumer goods as well as industrial products purchased. E-commerce platforms getting involved in app development for increased reach and activity with their user base. E-commerce app development is paving the way for eCommerce platforms to have their mobile apps for both market penetration and development. In return, it is also redefining consumerism.
Integration of CI/CD
In the daily development, testing process, building, and deployment, there is a huge gap. The Continuous Integration or Continuous Deployment pipeline, leveraging future mobile app development technologies, bridges this gap by maximizing the automation used to automate the application processes.
Low Code No Code Platforms
The no-coding or low-coding ways of building and deploying mobile app development are here! It is carried out through a low-code no-code platform. Prior certification or experience is optional for app building through a low-code platform. The future of building apps without coding is here!
Select TechRev's Services For Advanced And Trending Apps
TechRev offers high-quality hybrid mobile app development services at easy-breezy prices. Contact TechRev today for hybrid custom app development solutions for your business. 
Unlock the Potential of Tomorrow's Mobile App Technologies – Start Your Journey Today!