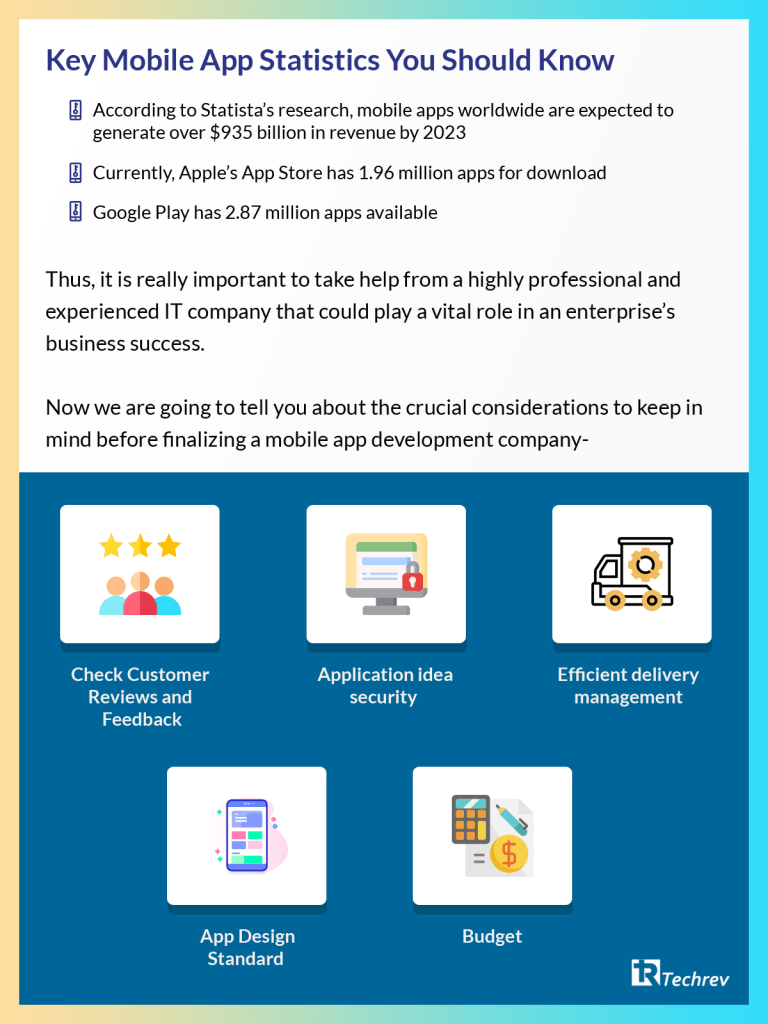 In the last few years, the overall demand for enterprise-level application solutions, especially Mobile Apps Development Company has increased exponentially. When it comes to providing seamless and new-aged customer experience, almost every organization- be it a Fortune 500 or an independent Start-Up, is leaving no stone unturned.
Modern organizations, these days, make a huge investment in mobile application development to cater to the digital-savvy users in their respective fields. An efficient custom web or mobile application plays a key role in any organization's business success and this is why more organizations are looking to opt for a custom mobile app development company than ever before.
Key mobile app statistics you should know-
According to Statista's research, mobile apps worldwide are expected to generate over $935 billion in revenue by 2023
Currently, Apple's App Store has 1.96 million apps for download
Google Play has 2.87 million apps available
With the overwhelming number of mobile solutions for different purposes and requirements, only a few of the applications can optimally meet the owners' and users' expectations.
Thus, it is really important to take help from a highly professional and experienced IT company that could play a vital role in an enterprise's business success.
Unfortunately, hiring an enterprise application development company is not a calk-walk. It requires some careful considerations before choosing a tech partner that can deliver proper results in terms of user experience and revenue generation.
Now, this article tells you about the crucial considerations to keep in mind before finalizing with a Mobile Apps Development Company-
1. Select the company based on consumer reviews and feedback:
One of the sure-fire ways of choosing a stellar IT company for your app development project is to check all the past and present clients' feedback and reviews.
You should personally call their clients to know about their actual experiences.
It helps you in knowing all the pros and cons of a company.
Another crucial parameter that you should consider is the company's experience. You should always opt for an IT company that knows their work well and has a considerable amount of market experience relevant to your business.
2. Application idea security
Application idea leakage is one of the growing threats that many organizations and entrepreneurs experience these days.
In recent times, there are many instances where the poor-quality replica apps hit the App Store and Google Play Store before the original ones.
It only happens because of the poor quality of application security measures.
When you are choosing a custom software development company for your mobile application development project, make sure the company utilizes strict security measures.
The company should be ready to sign a Non-Disclosure Agreement (NDA) with your organization and remain confidential about the app idea before you finally launch it to App Store or Google Store.
3. Efficient Delivery Management:
A lot of organizations complain about the poor delivery management processes of their existing development company. Without a proven and established delivery management process, it's really difficult for both the client organization and software service vendor to remain on the same page throughout all stages of the software development life-cycle.
There are many cases where the end-product didn't meet the expectations of the clients because of the communication gap between the organizations and their software development companies.
An efficient and client-oriented application development company like TechRev always keeps their clients posted about the real-time project updates and status at every stage of the development process.
Having regular transparent communication between clients and their service providers always ensures timely product delivery.
This is the reason you should always select a Mobile Apps Development Company that follows a proven and efficient delivery management strategy.
4. Overall App Designing Standard
The design is one of the crucial components of an app's market success. This is why organizations now focus on the development team's overall experience and skills.
If you follow the highly popular U.S.-based web and mobile development companies, you would realize that each of them has a great team of new-aged UX/UI developers as they know how to deliver world-class User-Experience and design to their clients.
When it comes to choosing an app development company, you should check their design portfolio so you will know if they're following the global design standards.
5. Budget Aspect of A Mobile Apps Development Company:
Last but not least, one of the most crucial things is the cost. You should always consider a company that is not going to be a budget-smasher for you with time.
If your brainchild product needs to have many business features as well as some complex levels, then it would be a good idea to go for a flexible budget project.
Time is a crucial factor that primarily affects the budget and that's why you should always consider a time limit.
Location is another important factor that determines the budget.
There are some locations in the U.S. where you can have technical expertise, real-world experience and budget-friendly resources. Florida is one such location.
Conclusion:
Instead of just choosing an app development company, you should always go for a customer-oriented and innovation-driven custom web and mobile application development company that takes more interest to grow your business with its innovative solutions.
As one of Florida's best Mobile Apps Development companies and business process automation service provider, TechRev is always is ready to understand your requirements and give you the best solution in the market.