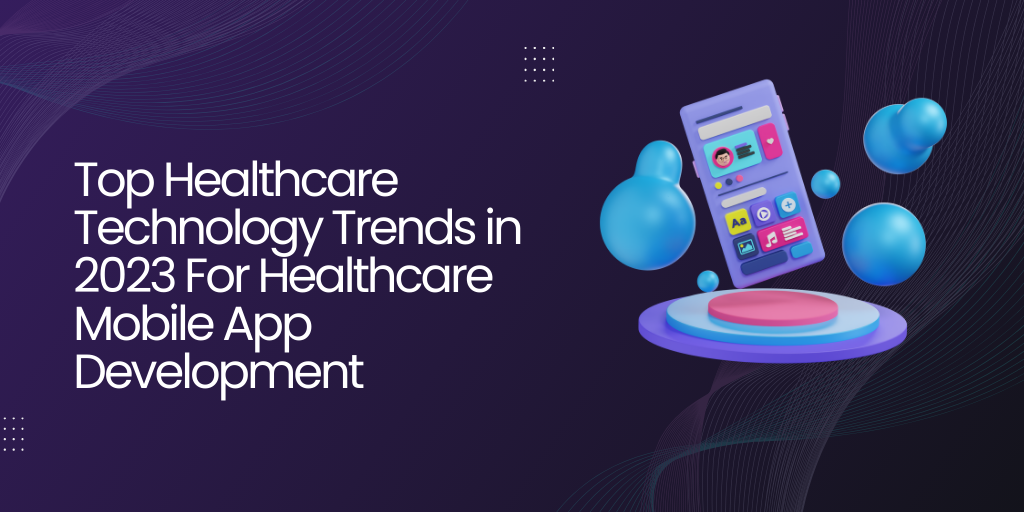 The health industry and other healthcare development services have gone through significant changes over the last two decades. Our ancestors would never have thought we would seek treatment guidance, medical assistance, checkups, or even medicine procurement over mobiles, smart devices, and phones.
Many experts, studies, and researchers are voicing the opinion that humanity is going to experience more significant breakthroughs as technology plays a more key role in the health sector and healthcare development services.
Are you in the healthcare sector? Then this is for you! Here, you will learn about the astonishing healthcare technology trends that will have great relevance in 2023 as well as in the future. Even if you are remotely related to the health or healthcare development services industry, you should learn about the following healthcare technology trends.
Present Healthcare Trends to Inculcate in Every Healthcare Mobile App Development Service!
Very soon, healthcare services will be upgraded or evolved for the best. Many unexpected trends can blow your mind! Have a brief look at the trends:
Internet Of Medical Things [IoMT]
This is the development of the Internet Of Things in the medical or healthcare sector. IoMT is a deep network born out of connected medical devices, equipment, sensors, wearable devices, and every other healthcare-related equipment. This network is connected to seamless cloud technology. IoMT empowers smart devices to promisingly offer limitless medical services.
AR – VR For Education As Well As Diagnosis
Augmented Reality "AR" and Virtual Reality "VR" are evolving to new heights impacting the healthcare-medical sector. VR helps medical practitioners and upcoming surgeons to practice accurate clinical procedures. AR helps doctors and physicians to have 100% clear and successful diagnoses through real-time medical projections on the patient's body. The use of AR and VR brings endless possibilities to the table.
Remote Patient Monitoring [RPM]
RPM empowers doctors and physicians to assess, monitor, and evaluate a patient's health from a distance. RPM removes the need for physical presence without degrading the quality of healthcare services. The projected worth of the RPM market is more than 174 billion dollars in the coming years.
Nanomedicines
Nanotech is used in clinical procedures to offer extremely sensitive and highly-specific treatment in many ways. Nanosensors detect and possibly block the outburst of coming diseases. Regenerative medicine for complete repair and regeneration of damaged tissues Tiny organic robots or Xenobots for fighting specific tumors and cancerous cells in the body. These are a few examples of the wonderful ways that nanomedicine will bring to humanity.
Telepsychiatry For Better Mental Health Services
Mental health is very important. Telepsychiatry, coupled with efficient healthcare mobile app development, gives everyone a powerful chance to improve their mental health. Clear Face to Face communication channels are made available to everyone to seek 24*7 guidance, help, support, and most importantly, a simple, accessible chance to have better mental health.
Data Analytics For Accurate Decision-making And Predictions
Deep data analytics help in the evolution of predictive analysis in the medical field. Because better data analytics removes the hurdles of incomplete data and information collection, streamlining, and analysis of the data from patients, more accurate predictions and successful medical decision-making will become a living reality, with every patient enjoying cherished health and an extended lifetime.
Clinical Automation
Automation of clinical procedures decreases the cost of treatment and tests. It also streamlines medical processes, eases the burden on the organization, and provides a perfect medical experience and service to patients.
Cyber Security Aligned With Proper Data Protection
Data breaches affect client confidentiality and pose a risk to clients' personal and sensitive data. Cybersecurity ensures data safety and protects the best interests of patients. So, no more misuse of the patient's personal and treatment-related data.
Healthcare Technology Infused With AI
The Artificial Intelligence trend is going on everywhere, so why do you think healthcare won't use it? It will. There are many opportunities where AI can be used. With AI, diagnosis quickens. Hospital workflows and processes can be smoothly automated. Dedicated chatbots offering 100% symptom checker services and many more!
Implants, 3D Bioprinting And Healthcare Software Development services
Many more futuristic trends are in the making. Smart Implants are already on the way. They are little computerized devices that restore functional independence for the physically challenged and patients with affected body functions. 3D Bioprinting for human parts still has a long way to go but very soon, 3D Bioprinting will surprise every person with its impact. Of course, healthcare custom app development is already making waves by bringing healthcare service a button away for everyone! Medical mobile app development is a rising and roaring phenomenon.
Innovative And Impactful Healthcare Custom Software Development Services By TechRev
Not every health industry business can stay updated on its own. Not every healthcare development service can produce essential and ever-evolving healthcare mobile apps. But every healthcare company needs one such mobile app, which is ahead of its time!
TechRev has helped every such medical and healthcare development services business to have the finest mobile apps. If you are in the healthcare business, you need TechRev's best-quality healthcare mobile app development service. It is a single-stop destination that brings top-level healthcare development services at affordable and accessible prices to every healthcare company.