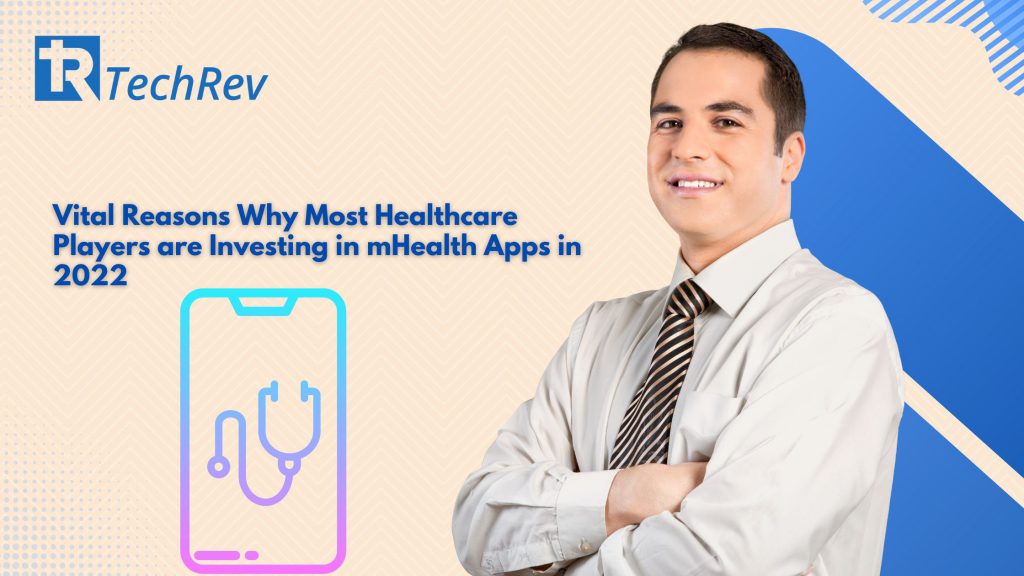 If you observe the current mHealth market trend, you will see that the majority of healthcare service providers are investing in custom software development solutions to build highly robust and scalable healthcare apps to improve their service quality. According to Gartner's research, the global mHealth market is expected to reach $294.5 billion in 2028 at a CAGR of 15.1. Now, you might be wondering to know the reason behind such a massive growth, aren't you? Well, almost every aspect of our lives has become digital. With all the convenience that digital technology provides, more and more people want to use mHealth apps to schedule appointments, consult doctors, manage prescriptions, talk to the healthcare professionals and pharmacists, and for many other purposes.
The truth is that most healthcare giants are investing in developing custom mobile apps and there must be valid reasons behind it. We, at TechRev, have already developed powerful and scalable mHealth apps for our clients. Based on our market study, a custom healthcare app provides the following benefits-
1. Improved customer satisfaction and engagement:
When it comes to ensuring an improved patient experience, mHealth apps do it by enabling the patients to manage their health with a lot of functionalities and through a highly intuitive user interface. The mHealth application with its functionalities corresponding to the users' needs can easily ensure better satisfaction for them.
2. Quality care and patient outcomes:
Due to the on-demand nature of the comprehensive mHealth applications, patients can use all the functionalities to manage their health in a real-time environment. In other words, you will be able to render quality service to your patients in this fast-paced day and age, without having to meet them in person.
3. Competitive-edge:
With this powerful digital healthcare solution, the mHealth application enables you to have a competitive edge over the healthcare organizations that still rely on traditional operating structures. Furthermore, you will be able to reach more patients who want to use digital solutions to manage their health.
4. A boost to your revenue growth:
The mHealth application can ensure better revenue growth in two ways- first, it gives a new avenue to monetize your digital healthcare service and secondly, it eliminates additional costs namely, booking appointments, employing more resources to manage the whole system, etc.
5. Improved scalability:
Once you are done with the initial phase of investment, it's easy for you to scale up or scale down your application based on your requirement. If you think that your app is lacking some new-gen functionalities, you can easily integrate them into your app to make your users' lives more convenient.
6. Better employee satisfaction:
With a mobile healthcare application, you can track and analyze your employees' work satisfaction. The application also enables you to gather feedback from your employees so that you can know about the areas that need improvement.
Now that you know the key benefits of having a mHealth application, it's time to develop one for your organization. We are one of the leading custom software development solutions providers in the US market and we know what it takes to develop a custom mHealth app that can make a significant positive impact on your business. If you want to know more about our service, click here to book a demo.