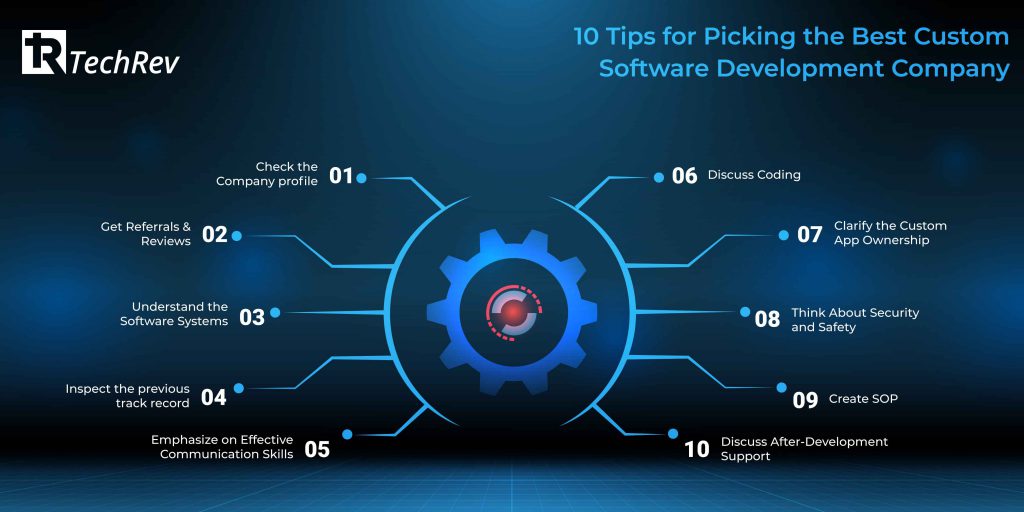 Today, almost all industries and businesses use custom software development. Organizations are increasingly reliant on custom software-based technologies to help them streamline organizational activities, automate processes, prepare for current and future challenges, ensure easy deployment across multiple platforms and meet consumer needs.
The right software company can assist you in developing out-of-the-box and user-friendly business applications that are simple to implement. Despite the fact that there are a plethora of custom application development companies, it is extremely important to select the right custom software development company to ensure that your business objectives are achievable without uncertainty.
While looking for a provider, there are numerous aspects to consider. Here are some useful 10 tips for appointing a suitable software development company.
Tips That Aid You in Choosing the Right Custom Software Development Company
So to make things easier for you, here are some tips that can help you pick the ideal custom software development firm. Have a look:
Check the Company profile
Proper verification and checking of the concerned company's profile is important. This verification forms the basis for trust when choosing a company, as it would help you know the successful projects delivered by that company. Experience matters!
Get Referrals & Reviews
Also, consider the referrals, reviews, or suggestions from the customers, who are already experienced, and the users of the software made by the custom software development company. Honest feedback helps you choose a better company that produces better results.
Understand the Software Systems
Different companies approach custom software development with different variants of technology. Understand the role and performance of Windows, Unix, etc., and choose the one that suits your requirements better. Keep this in mind when deciding on a company to provide custom mobile app development solutions. Understand different software systems and architectures to make the right choice of company.
Inspect the previous track record
Keep an eye on the previous track record of the company's delivery time for custom software solutions. Is the company delivering applications on time? Are they maintaining their deadlines? Is their project delivery exceeding the timeline? Answers to these questions should be of prime concern before choosing a company.
Emphasize on Effective Communication Skills
Also, assess the communication skills of the team you will be working with. Geeks sitting in a dark corner room working in their worlds without heeding anyone may be fun to hear but may get onto your nerves while dealing with them for your project.
Discuss Coding
Have an open discussion with the developers about the coding and put forth your requirements well in advance. Are you looking for lead coding? Do you wish to have less resource-hungry coding? Looking for no-bug coding? Communicate your requirements to them to avoid regrets later.
Clarify the Custom App Ownership
You don't want your competitors using your custom-built application, right? So maintain the clarity of ownership and exclusivity to protect your cutting-edge strength.
Think About Security and Safety
Clear and detailed measures of safety and security are essential. Understand how the company is offering foolproof safety measures. Learn how well sensitive data is maintained.
Create SOP
You should create a Standard Operating Procedure (SOP) for your custom software development project, no matter how big or small it is. Obtain mutual consent from the mobile app development company with which you are working. SOP should also include agreed-upon terms and conditions for custom software development and post-development technical support.
Discuss After-Development Support
Talk to the IT software company about after-development support. Make certain that they agree to provide documents for software configuration, software customization, and software backup maintenance services. 
Follow these tips to partner with the right custom software development company. You can simply select TechRev, which checks all the boxes and will be a great partner for bringing you the best custom app solutions and hybrid mobile app development services. 
You should consider TechRev if you are looking for a custom development company that offers these features. As an experienced team of software developers, we work closely with our clients for Android app development/iOS app development that conveys their brand identity.
Choosing the Right Custom Software Development Company Is Critical for Your Success
Yes, people have scented the growing need and popularity of custom mobile app development and how it effortlessly blends Android app development with iOS app development. So now, many companies are offering custom business software solutions. But of course, the quality of their offering and the standards of the custom app development solutions are not the same. 
Selecting a company that offers top-grade custom software development services is very important. TechRev is the top US web and mobile app development company, offering high-performance and affordable custom app development.