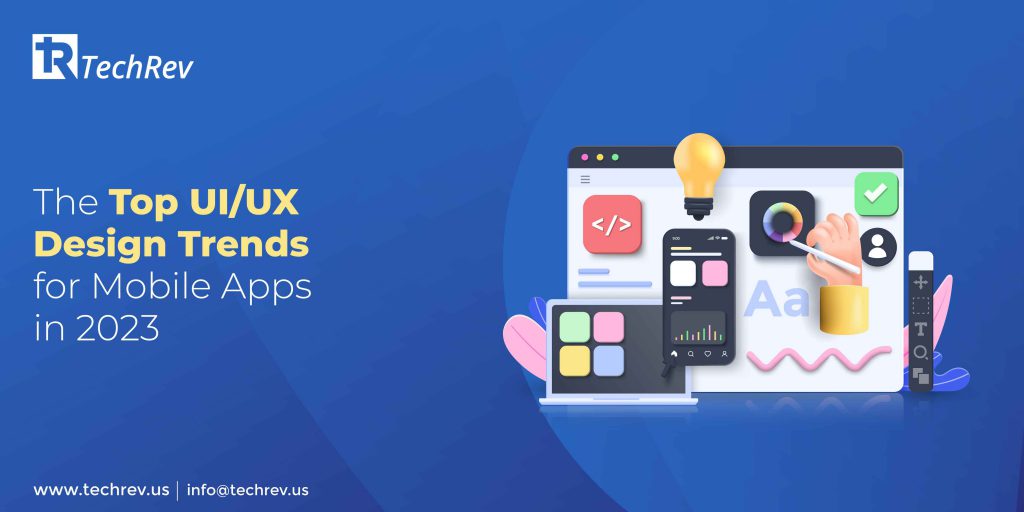 The UI/UX design for mobile apps serves as a link between users and brands. Their interactions with the app help users have a smooth and supportive journey with the mobile app. The better the mobile app UI design, the better the ROI will be on that mobile app. UI/UX design should always be user-centered or customer-centric, since that's what makes it successful.
Nowadays, UI/UX design for mobile and web apps is subject to consistent trends and developments. We live in a digitized era where almost 85% of the world's population does possess at least one smartphone. This statistic is enough to emphasize the importance of mobile applications. When a person downloads and opens an application, the first thing that gets noticed is the UI/UX design. The user interface design [UI design] of a mobile application is the fundamental first impression it makes on users.
The design aspect is now interrelated with the architecture and even the overall working of the app. The importance of UI/UX design for apps has increased. The right architecture and bridging of backend and frontend processes give a holistic structure and better user interaction. As the highest standards and innovation go into everything TechRev does, we offer custom app development with the best UI/UX mobile app design trends.
Let us shed some light on the trending and best mobile app UI/UX design in 2023.
Leading UI/UX Mobile App Design Trends 2023
You must be eager to know, "What is the current trend in UI design?" or "What is the new mobile UI?" Well, here are the trends for UI/UX design for mobile apps that will be essential in all Android app development and even more in iOS development.
Improved Personalization
Custom mobile app development will be stormed with app personalization now. The exclusive personalized experience is the thing of the present and it's here to stay.
Open any streaming service or search engine, like YouTube, Netflix, or Google, and you will be offered AI-assessed, personalized suggestions. App personalization is skyrocketing this year and will be preeminent in the years to come.
Rounded Corners UI design of Custom mobile app
Most smartphones come with rounded and curved corners. As the devices have rounded corners, even the app appearance is offered with a rounded and curved edgy appearance that suits the custom application development.
So whether it is Android app development or even in the case of iOS app development, rounded corners is the best mobile app ui design 2023 that have gained prominence.
Supporting Voice Interaction
Not just a graphical user interface, applications are sufficiently built to support voice interaction, making it a more personalized experience and better activity for users of different demographics.
Passwordless Logins
It's difficult to remember all the passwords that we keep accumulating regularly. App login without a password using facial or biometric recognition is the present and future trend. It brings ease and better accessibility.
Advanced Animation
Advanced animation provides a lot more data than general animation. It is also a simple and powerful communication approach in overall interaction.
3D & Faux 3D Designs
3D has been in use for a long time, but it has become necessary right now. Not just in games or for entertainment purposes, but for whole functionality purposes, 3D designs have become important now.
So discuss the most effective mobile app UI design tips for your requirements with the UI designer.
Dark Themes
The theme of the custom mobile app is driving the interactivity and experience of the users right now. So, dark themes have arrived to complement the night and day effect and sophisticated user interaction. It is among the best UI/UX app design trends.
Liquid Swipe And Buttonless Design
These days, the usage of buttons is minimized and even the swiping is done in a slick way. Liquid swipe and buttonless design are the new trends that have captured users' attention.
Design for Disabled People
Disabled people interact differently with products. Your design will be more user-friendly if you adopt an inclusive attitude.
Choosing high-contrast colors, captioning, transcripts, accessible audio or video elements, responsive layout, voice input, and gesture recognition technologies—it's all about easy accessibility.
These are some of the important mobile app design trends that have garnered attention and have skyrocketed this year and we foresee them continuing in the coming years as well.
If you choose TechRev and its best-of-breed professionals, you will receive these UI/UX design trends for your custom software development, hybrid mobile app development, or business.
TechRev: Best UX/UI Mobile App Designers and Developers
You can avoid the trouble of keeping yourself updated with the new mobile app UX/UI trends in 2023 by choosing TechRev for low-code custom software development.
TechRev creates innovative app UX/UI design for Android app development as well as high-end iOS app development to provide the best quality hybrid mobile app development at an affordable price.
Create the best UI/UX apps with us!