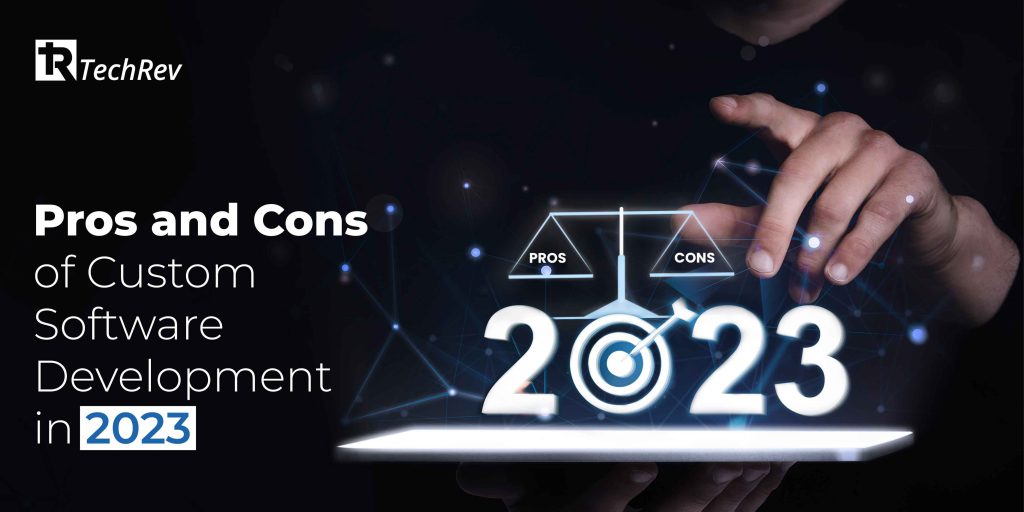 Custom software development is the solution for most businesses seeking definite software solutions. It offers great flexibility, creative control and improved security and support. When tackling a large project or in need of a one-of-a-kind design, custom app development has the potential to elevate your plans.
Here's the important question: Should you go with custom application software?
At TechRev, we create custom software solutions to match our client's motives and it is reliably highly recommended.
However, it is crucial to be aware of the benefits and drawbacks before selecting custom software development solutions. It helps you decide the best approach that meets all your requirements for mobile app development. So let's have a look.
What is Custom App Development?
With custom app development, businesses can avoid readily available, mediocre software applications. Instead, apps that cater to the priorities and needs of the organization can be made. Every firm is different; every business has its own challenges to face. 
But, it is also quite obvious to think that how can one readily available app be sufficient for all? Well, here is the answer. Hybrid app development or custom app development empowers businesses to have applications addressing their specific requirements. Moreover, custom software development offers a higher return on investment, enhanced security, more customization, integration options and scalability.
TechRev is the best custom web and mobile app development company, providing low-code development solutions. Custom Android app development coupled with iOS app development services inspires businesses to handle every challenge in the fast-paced business landscape.
TechRev is the leading service provider of low code development and hybrid mobile app development to every US web app development company. But before choosing custom mobile and web application development services, an assessment of the advantages and disadvantages of customized software development solutions is important.
Advantages and Disadvantages of Custom Software Development 2023
Here's a quick rundown of the pros and cons of custom application development in 2023.
Advantages
Custom mobile app development is all about designing and deploying applications, accumulating your business needs and removing everything you don't need. It facilitates the features your organization needs. 
Depending on custom software development, the company gets total control of scale, Customization, functionality and performance. It is an empowerment that every business requires in the future.
IT software companies using custom mobile app development can easily scale up in future without any hiccups. Also, planning for future growth through the app will be seamless.
Custom Android app development/iOS app development provides a holistic competitive edge against all of its competitors.
Furthermore, there won't be any additional licensing costs involved.
The IT software company that uses custom mobile app development will enjoy complete rights and ownership of that software application. 
Disadvantages
Custom development needs dedicated efforts, so it takes time to make it happen. It cannot happen in a plug-and-play environment.
Even stakeholders and super users need to dedicate their efforts and time towards custom hybrid mobile app development.
A custom application solution will require a greater initial investment. This may bother some bootstrapping enterprises.
Sometimes the ongoing support organizations may incur some additional costs.
An important point to note here is that, not even the demos, or free trials are offered without an initial investment.
So the irresponsible management of any IT software company that wants to explore custom services might have to suffer blown-up budgets, missed deadlines and severe resource wastage, possibly, at the expense of their future business prospects.
Pros and cons of custom software development 2023 are discussed in detail.
Explore Custom Software Development with us!
Innovation is the most critical driving force for every enterprise. Custom software pros and cons are important before implementing a decision for developing an app. For easy application development and deployment, choose the mobile app development service from TechRev, the best custom software development company.
With our wonderful team of techies, we offer top-notch custom application development solutions for your business. Contact us today and get custom-based applications that can be deployed on all platforms at once without any extra effort!