Mobile apps are constantly evolving to suit the needs of the changing landscape that surrounds them. A lot of the evolution usually happens with the emergence of new technologies, constantly changing user demands and other factors. With time, people have come to expect apps to serve many purposes and fulfill a significant amount of their demands. This affects the trends we see the custom app development industry going through. To succeed with your app, it's important to stay informed about the latest trends in the industry.
Let's look at a few of these trends that are taking 2021 by storm: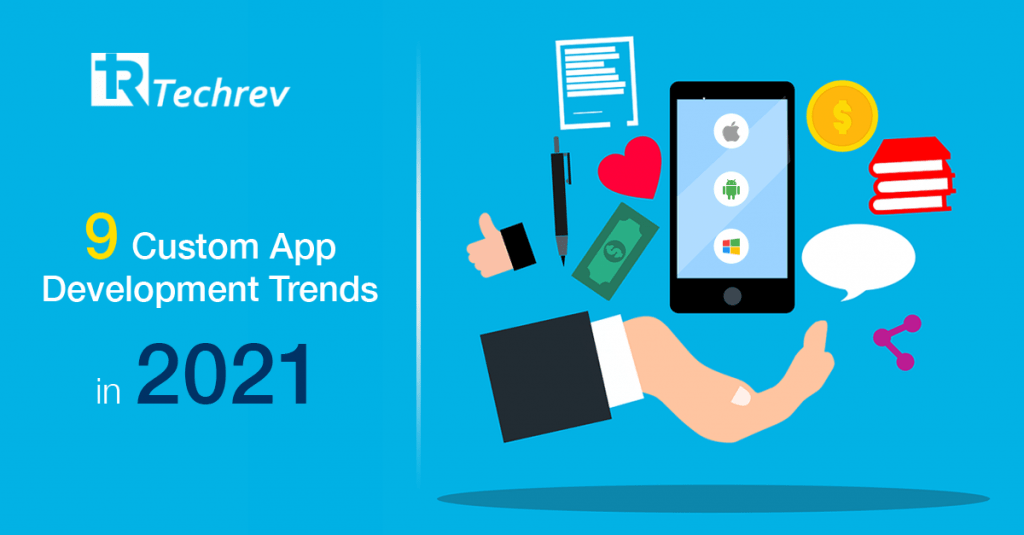 Apps for Foldable Devices:
Samsung has introduced the innovative foldable OLED screen into the market, supported by Google's foldable support on Android with the screen continuity API. The market for these phones has the potential to surge in terms of growth in the near future. Custom mobile apps should be ready to use this technology to improve the smartphone experience. A significant amount of Android apps have already been optimized for these new screens, with prominent ones including Spotify, Twitter, Facebook, VSCO, Prime Video and Microsoft Office.

Bringing your app to a foldable screen can be challenging, but recent predictions suggest that the custom app development strategy should be able to accommodate the seamless functioning of apps on foldable devices. The larger screen brings a more immersive experience and multiple windows can allow users to multitask.

Artificial Intelligence (AI) & Machine Learning (ML):
Artificial Intelligence and Machine Learning entered the app stratosphere years ago, but we've only recently been able to realize their true potential. The use cases for AI go far beyond the regular Siri and Alexa. A lot of AI technologies can be introduced into apps including but not limited to face recognition, image recognition, sentiment recognition, speech recognition and predictive maintenance. Artificial Intelligence and Machine Learning technologies allow apps to be smarter and more independent. They improve the performance and take it to the next level for users.
Chatbots:
Chatbots aren't a recent development in the app development industry either. The earliest chatbots can be traced back to the early 90s with AOL Instant Messenger. But with time, these chatbots have evolved and become more advanced and nuanced in terms of their programming and effectiveness. They're slowly becoming a standard in customer service. With the usage of AI technology, chatbots are slowly gaining more insights into their users and their responses are becoming more human. Very few of the millions of apps available on app stores have employed chatbots to facilitate a better user experience. However, the integration of chatbots into custom apps is predicted to wildly grow in the future.

App Development for Wearable Devices:
Have you ever noticed that more and more people wear smartwatches, fitness bands and trackers these days? There is growth in the market for wearable devices. We can soon expect apps on wearable devices to become commonplace. Very recently, Apple has announced the Apple Watch will no longer need a companion iOS app to run and the app store will be directly installed on the Watch itself. Hence, app developers should become ready to tackle the challenges of providing an excellent user experience to customers on smartwatches. This will help them have an advantage over apps that don't integrate their services on wearable devices.

IoT (Internet of Things) App Integration:
There are endless opportunities to explore with the rise of IoT and users are becoming more comfortable with the use of this technology. IoT, or the Internet of Things, is a set of interconnected physical objects over the internet to increase user convenience and automated control. This is clearly visible in app development for smart home control applications. IoT apps applications vary for several purposes, like adjusting the temperature of the thermostat from a remote location or employing a home security system. IoT software is expected to grow steadily over the coming years and custom app developers should keep a special eye on this industry.

AR (Augmented Reality) & VR (Virtual Reality):
Pokémon Go wasn't a one-off for AR technology. AR & VR have definitely taken the gaming industry by storm, but they can be used in multiple other forms. Google Maps rolled out a live view feature that enables directions through live imagery. The app can figure out the exact location of a user by pointing the camera at street signs or certain buildings. Instagram & Snapchat go crazy with filters, and Instagram has even allowed their users to make their own filters through Spark AR Studio. With multiple use cases, AR Integration has become an essential custom app development trend.

Mobile Wallets:
People paying for things using their phones isn't exactly fresh news, but the methods of payment are constantly evolving with time. Apps like Google Pay, Samsung Pay and Apple Pay are only rising in popularity. The sum of transactions taking place across mobile wallets is expected to double by 2022. App developers should consider this rising trend while developing custom apps and integrate mobile wallet features accordingly.
Beacon Technology:
Beacon Technology adds an advanced functionality to a number of industries such as retail, healthcare and hospitality. In the past few years, Beacon Technology has undergone a massive transformation through significant advancements. Beacons are small, wireless transmitters that use low-energy Bluetooth technology to send signals to other smart devices nearby. Put simply, they connect and transmit information to smart devices making location-based searching and interaction easier and more accurate. One of the major benefits of Beacon Technology is proximity marketing. This helps improve the customer experience within an app. We expect a significant growth in the integration of beacons within apps – beacon-enabled airports, mobile payments beacons and even automated personal beacons.

Instant Apps:
Android Instant Apps rose to prominence a few years ago, but Instant Apps still haven't reached their full potential. These apps are low-size with minimum experiences that help improve app discovery. Instant Apps enable users to try apps without having to install them beforehand. Because of the size restrictions, the user may not find a full experience of the app. But these limitations could change shortly. Users demand a better experience when it comes to apps and a sure way to provide it is by enabling the app experience without installation. If you're developing apps for Android, make sure you have an instant version in 2021.
With so many apps already on the play store, it can seem particularly difficult to stand out from the crowd. If you're following trends that have long left the industry, this can be challenging. It's extremely important to stay up to date with the latest trends and technologies to gain an edge in your space.

If you want to know more about the trends of 2021 or want to integrate them into your own custom app, our experts at TechRev are available for consultation to help you build a great app for your business.