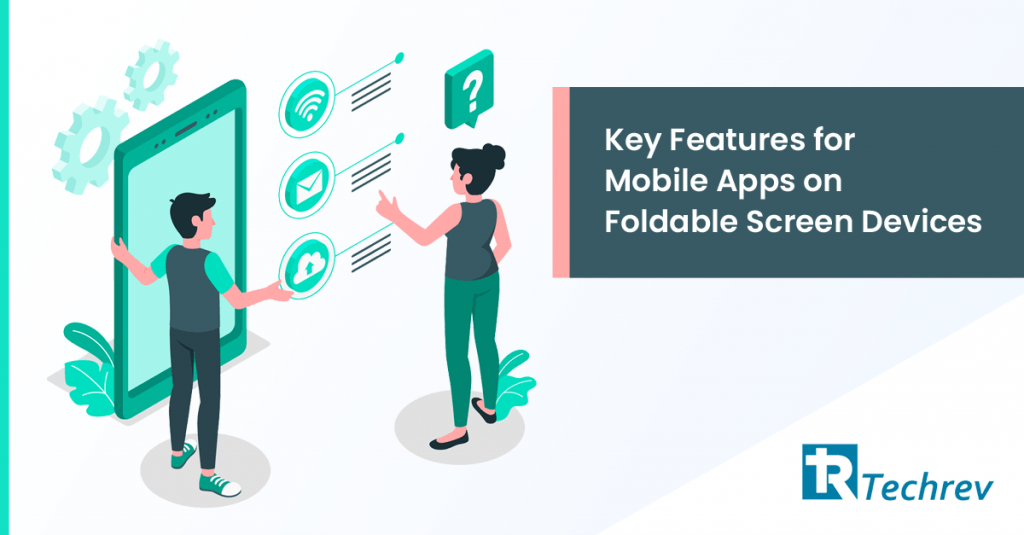 Foldable devices & tablets are becoming more and more popular across the world with their extensive uses. A lot of top smartphone brands are offering foldable smartphones, and the future looking towards a bigger boom. It is crucial that modern apps modify themselves to accommodate these modern screens. Mobile app development services need to be adaptable to foldable screens. An estimate that by the end of 2023, 5% of the entire market will be run by foldable mobile phones.
Planning single-screen apps and foldable screen apps tend to be quite different. Developers need to consider certain important factors during app development, such as multi-window compatibility and multiple screen configuration.
Let's look at some of the key features for mobile apps for foldable screens:

1. Continuity:
Any mobile app should offer continuity to maintain a good user experience on a foldable screen & a single screen. The app should be able to make a seamless transition without having to close the app to achieve the switch. With foldable smartphones, users often look for consistency in the app. Continuity is a great way of making sure that consistency is present.


2. Resizability:
The application made for foldable screens should be compatible with both screens. Developers should consider the resizability of the app development process. Using "resizabilityactivity=true" for custom foldable smartphones can present the app on both types of screens.
3. Multi-Window Ability:
Applications need to offer multi-window functionality for a better user experience. It's time that mobile app development services consider multitasking with multiple screens as a go-to option. It makes the overall user experience much more accessible.


4. Multi-Resume:
Multi-resume features are important in applications for foldable devices. It enhances the application's experience as it needs the ability to resume when the screen is folded or unfolded. For devices that run above Android 10, this issue has been successfully resolved. All applications that run on multi-window mode can be resumed without any pauses or glitches occurring.


5. Multiple Screen Support:
Mobile app development services should consider compatibility with more than two screens in real-time for foldable devices. They can make the decision on which screen should be primary and which one should be secondary. The application, along with text and configuration, should be able to resume under any of the two screens.


6. Aspect Ratio:
Multiple devices work on different aspect ratios. That is why the app must adhere to all the aspect ratios and configurations. Testing the application for all these different aspect ratios is an essential part of app development for foldable devices. This can help with the app having a seamless user experience and easy navigation.

In Conclusion,
Developing an application for a foldable device can seem like a challenging process. You can easily achieve this through a mix of pre-existing knowledge among developers and innovations in technologies. The key to developing better applications for foldable devices is user research. It involves, testing multiple times to make sure everything works as intended.
Want to learn more on app development features? Check out our related blog: Features that make Excellent Mobile Applications
If you want to build a mobile app for your business, TechRev can help you create an amazing app. Get in touch with us via our email info@techrev.us and let's get started.