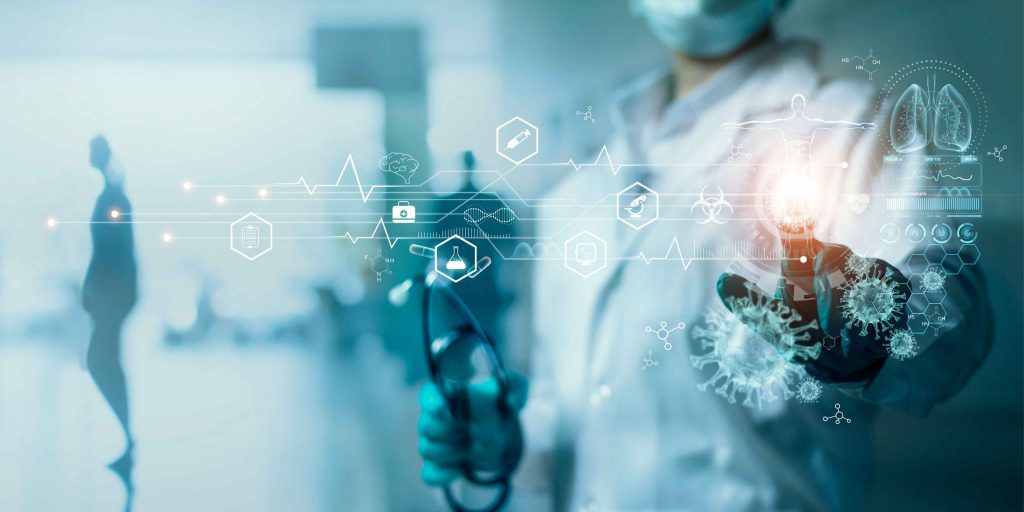 RFID stands for Radio Frequency Identification. It is a unique and advanced tracking technology based on the tag system. Typically, RFID technology can be categorized into three parts. An antenna, a reader, and a transponder. Using RFID, it is possible to track items that have been tagged in advance with a special tag. 
RFID is similar to bar code technology, but there are significant differences. In barcode technology, one must scan the barcodes and only then can the information be tracked. With RFID technology, radio waves are used to track every product's data. This makes it quicker and better than barcode technology.
RFID custom software development improves the performance of the healthcare enterprise. Many IT companies such as TechRev provide the most effective healthcare mobile app development services to create and design innovative healthcare applications in a matter of days.
Let's learn more about RFID technology below.
How Does RFID Technology Work?
The healthcare sector understands the importance of updating itself and accessing advanced technology because the changing times demand a change in methods. Radiofrequency identification (RFID) technology is a fast-growing technology that uses radio waves to collect data and transfer it.
In RFID technology, the antenna serves as a way of communicating the radio wave signal with the RFID tag. The antenna projects a frequency field as part of the scanning process.
Accordingly, an activation signal is identified and the data of the concerned product is stored safely. A product with an RFID tag is scanned in this manner, and the information is stored using RFID technology.
With years of experience, TechRev, the top-ranking custom software development company, is enabling many healthcare enterprises to make a big impact on the healthcare sector and their customers with hybrid mobile app development solutions. You can look at our portfolio page!
We provide RFID-based custom software development services for mobile devices with integration.
RFID Technology in The Healthcare Sector
You might have already come across patients with RFID tags or some newborns with tags tied to them. Those tags help analyze and organize the person's data without any possible mix-up or mishap.
Healthcare RFID utilizes the power of RFID technology such that every patient's only interaction will be with their RFID tag. Throughout their medical journey, the tag will help the medical team assess the changes or improvements in the patient.
Healthcare mobile app development has a proactive impact on the healthcare market. Our RFID healthcare solutions assist hospitals in tracking assets, inventory, and patient data in order to maximize performance, strengthen patient security, and reduce operational costs. 
We are the top US-based web development company implementing RFID technology in Android app development and iOS app development to solve many complex tasks for healthcare companies.
How Does RFID Work In The Healthcare Sector?
RFID technology is used in healthcare through a very simple mechanism. A small and light RFID tag is attached to a newborn's ankle, a patient's wrist, and others.
As a part of the system, each RFID tag consists of a unique ID. Online real-time [OLRT] connections are made between secure networks. This helps with surveillance, security, and real-time tracking as well.
The system notifies the management or the relevant hospital department whenever someone wearing an RFID tag passes beyond the confined perimeter.
Even when the tag is tampered with or attempted removal occurs without following any established protocol, the system notifies management of the situation.
RFID tags are a boon for newborn babies prone to mixing up or adult patients with cognitive issues or senior patients. Their safety or care is no longer a major challenge for hospital administration.
7 Benefits of RFID Technology in the Healthcare Sector
The seven benefits of RFID in healthcare are:
Wireless technology powered by RFID has already entered the healthcare sector. As a result, the technology can be used without shackles or limitations imposed by the physical world.
Wireless RFID technology in healthcare empowers hospitals to use it whenever and wherever they need it, enabling them to utilize increased bandwidth.
With RFID technology, the methods of surveillance, safety, storage of information, and preservation have become simple and affordable for the entire healthcare sector.
A constant worry is the safety of newborn infants. They are prone to mix-ups and to any external security threat. Such delicate issues can be effectively handled when using RFID healthcare solutions. 
Patients with cognitive issues, disabilities, old age, and other ailments are always a constant headache because there are so many things that can go wrong. The use of RFID technology in healthcare can make hospital interactions with these patients more organized, careful, and attentive.
RFID also helps maintain medical equipment. Medical assets are delicate, expensive, and often require constant attention. RFID technology helps safeguard and properly manage medical assets with the utmost care.
RFID healthcare solutions monitor and manage everything, from single-use items to high-level medical equipment.  
Develop Custom Mobile RFID Applications With TechRev!
Healthcare is evolving into a better-performing version with RFID tags. Be a part of it and unleash the potential of healthcare mobile app development induced by cutting-edge technology such as RFID with the help of TechRev.
Book a demo to get the top-grade custom healthcare mobile app development solution now!