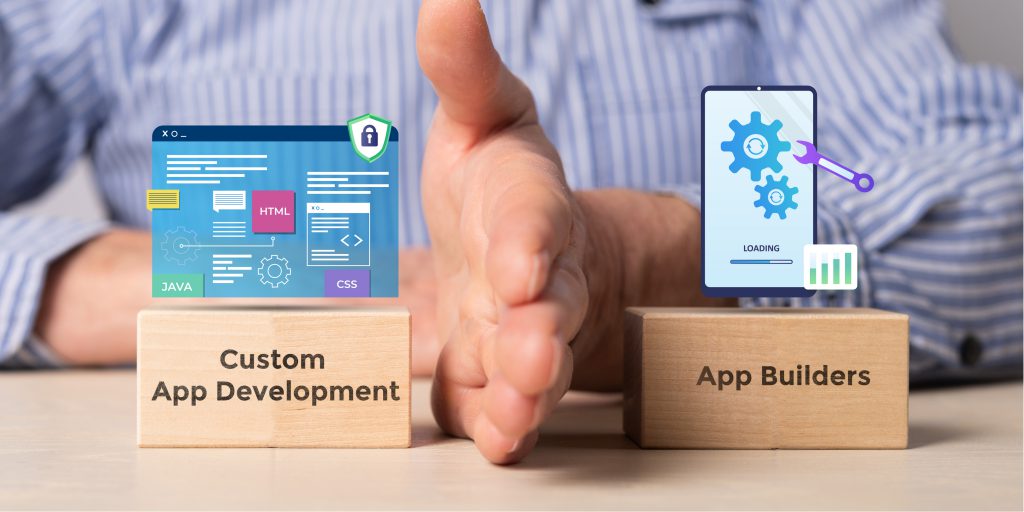 App builders are the tools to develop applications faster and these builders also contain inbuilt frameworks to use right away for building software. It eliminates the need to code for mobile app development. The quest for app builders is not a novel idea, in fact, it was first described in 1982 in James Martin's book "Application development without Programmers". 
A builder of apps may also be referred to as an app creator, a drag-and-drop builder, a DIY builder, a code generator, a platform that uses Low Code or No Code, and many other names. App builder still aims to quickly and smoothly produce high-quality apps. The terms Low Code App and No Code App are used by IT businesses to develop apps faster.
Custom software development is a way of creating apps that are uniquely tailored to specific business needs. Businesses may simply meet the constantly shifting customer demands with the use of specialized tailored apps. The UI/UX interfaces of these apps are distinctive, and they are more scalable than pre-made apps.
Regardless of the needs of the business, app builders and custom apps each have their own advantages. We'll cover all the different facets of app builders and custom software development in this article. We will also discuss the technical aspects of both and attempt to determine which could be better for your company.
SCOPE OF APP BUILDERS
When a company doesn't want to invest substantially in app development but needs an app with the most functionalities to provide its services online, an app builder is an ideal choice. Even the majority of businesses utilize app builders to create applications that highlight their products and services. As an example, a business may need hybrid mobile app development to promote an offer for marketing purposes.
Many business owners find that testing their venture ideas with app developers is helpful. You can scale the app to custom software development if this concept makes sense from a commercial standpoint. If you only need an app as a utility rather than to provide the entire range of your company's services, you can turn to app builders.
Pre-made app services could be a fantastic option if you run a small business or are just starting one and have a limited budget for custom mobile app development. The task of your core business deliverables can be completed by a number of good app development services (iOS app development or Android app development) available today, which offer a selection of pre-built templates and app components.
In addition to pre-made or off-the-shelf software, companies can create apps using a Low-Code app or no-code solutions. With its drag & drop capability, it enables developers (even beginner programmers) to create enterprise apps in a matter of weeks rather than months. Moreover, businesses of all sizes, including start-ups, use it to develop apps more quickly and save time and money. Visit DewStudio for the most powerful Low-Code development tool.
In addition to their advantages, app builders have some restrictions. For example, they may (fairly) cap the number of resources, unique users, push alerts, and other things. Additionally, it might be expensive to raise these limits. The majority of app builders have the following restrictions:
Some App builders may restrict the use of third-party services.
Limited built-in features.
Payment gateway with limited bank facility (Payment providers)
Third-party ads may be annoying to customers.
Issues about App localization.
Limited templates that may not be suitable for your business.
Difficulty in integrating third-party components.
Scope of Custom Web App Development
Custom software development fills the gap app builders left when creating customized software solutions for your company. Custom app development is the process of developing software that is specifically tailored to satisfy the rapidly evolving needs of future businesses. Custom apps can be cross-platform app development, iOS, Android, or hybrid app development depending on the requirements of your customer-centric app.
Customized apps provide better UI/UX and are more scalable and agile. This is true because enterprises create apps with future business needs in mind. For instance, you built a simple app to serve your customers. However, you may need some more functionalities in the future as your consumer base expands so that custom apps can handle additional users. So, this is when businesses require custom software development to scale their operations easily. 
TechRev is the most reliable IT software company for developing custom apps for all your business needs.
Although app developers can create apps for your company's basic needs, there are several limitations that will only allow you to use the app's standardized functionalities. Custom software development can fulfill all your business requirements and needs, with easily scalable and customized modules. Best custom apps can have the following functionalities and features as described here:
UI/UX audit, creation of the product design concept.
Development from scratch with detailed business analysis & scope.
Easy customization – Modules, UI, components, branding.
Development at any stage of your existing project.
Development of a minimum viable product (MVP).
Technical support and maintenance.
Data protection at each level of development.
The Reason Why Custom Software Development Is Better
Customized mobile app development offers a distinct advantage over app builders since they give your company exceptional brand identity and let you stay competitive. The conventional business model is also maintained by custom software development, ensuring that the target audience is not negatively impacted by the scalability of your app. In this highly competitive market, where competitors try to replicate your business model or prototype, the security of your business tool (software) is crucial. With their numerous layers of security protocol, custom apps guarantee the highest level of security.
Conclusion:
The use of app builders is beneficial for businesses who wish to test a business concept on a small scale and determine its potential for expansion. The quality of an app that is built using an app builder will undoubtedly require numerous adjustments and that is not easily modifiable. The major constraint of app builders is that you won't control the code.
A custom software development company is a better choice if you really want to develop your business for the long haul. They can advise you more effectively on how to scale your business model for better outcomes.
Contact us at https://www.techrev.us/contactus for a customized, scalable, and agile web app for your company.