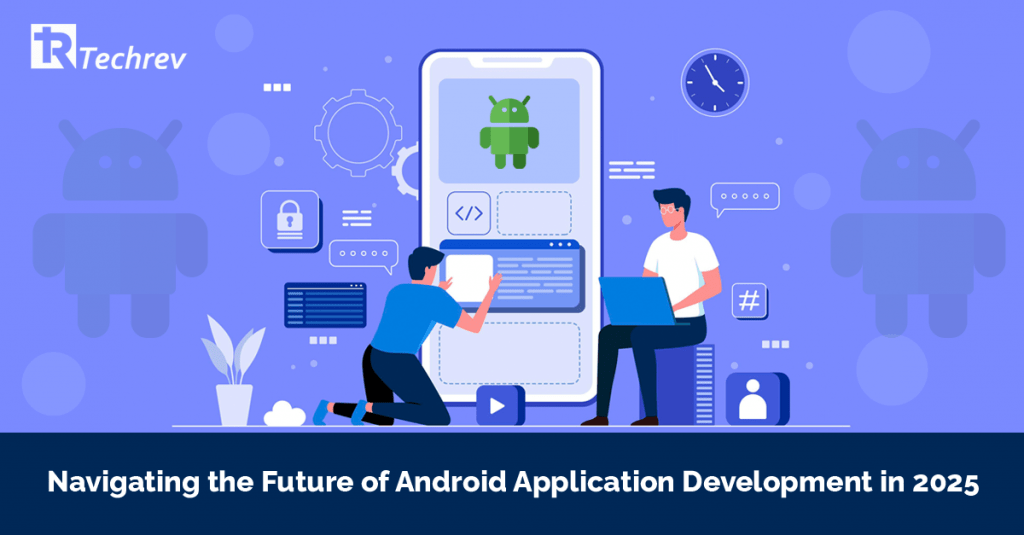 When it comes to choosing a mobile platform for application development, most companies prefer Android. What's the hype? The userbase and the capabilities encompass 85% of the world's mobile market. This means, the wider the audience, the greater the brand awareness.
The world of technology is changing at the speed of light and today's hot new tech seems to be redundant in the blink of an eye. Hence, programmers and engineers commit to a lifetime of learning so they can keep their products sustainable and ahead of the curve. Android App Development Companies are constantly looking at trends in software development and the overall market. In simpler words, looking at how people are using their product. Even if the changes are actionable for today, things might change in a few years when it's ready.
With that in mind, TechRev experts have come together to preview the ins and outs of Android application development trends in the coming years. Some of these may be at an emerging stage today but the current trends showcase promising outcomes in the future.
Instant Apps 
Android Instant Apps is not just a time-saving technology for Android Application Development Companies but also allows the programmers to quickly check an app without its explicit installation on a device. Instant Apps help save end-users time and provides better navigation. The icing on the cake is, 'Android Instant Apps' is light and does not require much space on the gadgets. Hence no chances of system interruptions.
Do you know which industry and business can benefit the most from Instant Apps? Ecommerce and game developers. The technology makes it easy for businesses to advertise their products & attract potential customers. This would let users eliminate the need to go to the Google Play Store in the search of an app. Instead, they can run into these apps in Google search results and instantly open them.
Blockchain Technology
Despite the rumors that blockchain technology is facing security issues, it is one of the most secured & highly encrypted technologies that the financial system has witnessed. It's secure enough that blockchain technology is driving the crypto boom and the android app development.
Experts still discuss the long-term viability of cryptocurrencies, but the applications of blockchain technology go far beyond the world of finance. From decentralization to IoT smart integrated systems, blockchain has the full potential of emerging as one of the most preferred development strategies.
Android application development companies are still brainstorming on how to get ahead in the game with topics like Java and blockchain or combining major blockchain platforms like Ethereum to Android development.
AI – Artificial Intelligence
AI has progressed our day-to-day operations. But the fear of losing our jobs to automation has also haunted many experts. The subject of Hollywood blockbusters like The Terminator, The Matrix and many more are still a hot discussion for macroeconomics. But apart from its apocalyptic fears, AI has a great potential to do good. AI has been a pivotal integration for most of our apps and programs today. From instant translation apps, digital assistants, training and teaching programs, and KYC/ML, the transformative power of AI are undeniable. Besides, who doesn't like it easily?
Google has also introduced us to some powerful applications designed particularly for programmers looking to harness the power of AI. It goes as the adage – "if you can't beat them, join them!"
AR – Augmented Reality 
AR or Augmented Reality is another highly immersive trend for Android application development companies. Although AR has become a household name, it is still in the earlier stages of development. So how does AR work out with Android application development companies? AR is a new way to use native functionality. It enables a mobile device to overlay the user's view with some computer-generated images or information. The movie 'Inception' but when you are awake.
The most recognizable example would probably be a game: Pokemon Go. As much fun as the game is, the applications of AR go way above and beyond just catching some cute magical monsters in your local cafe. Speaking of which, when you consider what AR can do, it becomes clearer that teachers, trainers and all the professions can leverage AR to simulate real-life situations.
As AR grows in popularity, its usefulness in the next few years will expand for any Android application development company.
Koltin
Not long ago, Java was the only official language of Android app development. But it all changed when Google introduced Kotlin. It's a programming language that became the second official language of Android. Gaining full support in the Android Studio, Kotlin became popular expeditiously.
Many developers find Kotlin safer and easier to work with as compared to Java. Some even declare Kotlin as the future of Android development.
Also read: How to Pick the Right Platform for your app?
Multiplatform development
Apps like Flutter, React Native and several more are emerging in the IT landscape for multiplatform development from Google. With this framework, developers can easily build a native app for both Android and iOS without missing out on critical functionality.
Many programmers and developers have tested and enjoyed Flutter for application development services. It's highly flexible and provides a variety of development solutions.
Bottom Line
Android application development has a lot to offer programmers and developers. The variety of choices and offers also significantly improve the customer mobile experience and increase brand visibility. While mobile developers can find a wide range of robust tools we at TechRev, with our experienced team of developers, understand your requirements and what type of app will suit your business. Keep following this space to know more and get in touch.