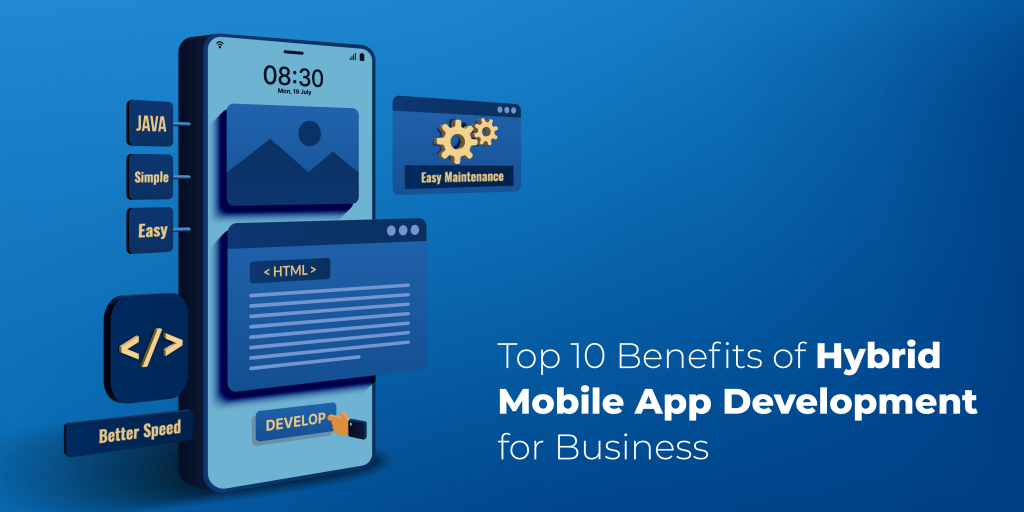 Hybrid app development is a new-age method of developing mobile applications that run on different platforms and systems. Initially, apps were made platform-wise, but with hybrid app development, the developed apps can run on Android, iOS, Windows and even web browsers. 
Whenever a discussion about a mobile application takes place, it often ends up with Android or iOS. However, this traditional mindset is not helpful when reaching the maximum customers is the ultimate goal. Hybrid app development is the modern mobile app development phenomenon where a multi-platform enabled app is made using a single process.
Most enterprises or individuals choose hybrid mobile application development, not because it is modern, but due to its wide range of benefits. Here are the top advantages of hybrid app development.
10 Advantages of Hybrid App Development
Hybrid mobile application development is currently a dominating trend. The following benefits are the reasons for many businesses' favor hybrid mobile apps:
1. Cost Effectiveness
Developing an app with just one platform is an age-old thought that will impact your investment. Always plan to build an app that goes with multi-platforms. Instead of developing one app for one platform, with hybrid app development you can make the best app that goes on different platforms without any additional effort. It saves a lot of money!
2. Simple & Easy Integration
The benefit of hybrid apps is that you need not look for more special libraries of SDKs, APIs and others. The same SDK and API libraries you have used are enough for hybrid application development. Apps made for one platform cannot be installed on another. However, hybrid apps break free from this rigid situation with easy integration and cross-platform functionality.
3. Wider Audience Reach
Whenever you focus on one platform, you miss the opportunity to reach out to the potential customers waiting on other platforms. Hybrid mobile applications help you reach the maximum customers with just a single app development.
Moreover, market development is easy with TechRev, the best hybrid mobile app development platform, which facilitates audience reach.
4. Easy Maintenance
Developing different apps is tough and having quality assessments for each of them is a lot tougher. It's always difficult to maintain all these apps on their respective platforms, so this is a major hybrid app benefit.
Your single maintenance is enough for the hybrid mobile application on every available platform and saves a lot of maintenance costs.
5. Faster Development
You are aware of the generic expenditure, effort, resources and time required to develop an application for one platform. Repeating the same intensity for apps on different platforms will always be time-consuming.
In the case of hybrid apps, you will just be planning for one codebase and designing and implementing a single hybrid app. One effort is sufficient for all the platforms, which generally results in faster custom software development.
6. Better Performance; Better Speed
Did you know that lengthy code is the reason for low performance? Hybrid Apps are dependent on simple and comparatively less code with a possibility of reusing that code once again.
Also, they don't rely on network communication, which also results in better speed. Hybrid applications thus possess better performance and better speed possibility than others.
7. Better UI/UX
Hybrid Apps have numerous resources for a better user interface as well as their design. Besides, their speed and seamless performance makes the app more user-friendly.
Web and mobile hybrid app development are made in such a way that they run equally well and evolve better on multiple platforms. The low and quick load of content provides for a better user experience and performance on all platforms.
As the best IT software company, we strive for continuous advancements in UI/UX design and develop user-centric hybrid apps.
8. Complete Offline Support
Generally, apps perform better online with data running and expanding. But hybrid apps are made with such an intent that even when they are offline they project great features and effective performance to the level of surprising smoothness.
As a result, no users will experience crashing or performance disturbance during the hybrid app's offline usage.
9. Quick Marketing Opportunity
As said above, as the hybrid app is built for multiple platforms at the same time, its development is faster on the whole. So without wasting much time, they can be deployed on all platforms single-handedly at the same time with top hybrid app development platforms like TechRev. This helps to quickly implement market strategies and better market penetration without hassle.
10. It Also Saves A Lot Of Time
Hybrid app development is the best way to save a lot of time, effort, energy, money and even resources. You can build and design hybrid apps for multiple platforms simultaneously, with the same resources, raw materials, and effort.
You won't be wasting time hiring different developers, searching for API or SDK libraries, training and updating time for different versions. The test cases and error rectification are also time-saving aspects that are possible with hybrid mobile app development.
Wrapping Up!
These benefits keep hybrid app development ahead and advantageous in the industry. TechRev, the best US web development company with in-depth knowledge of advanced hybrid app development, can assist in analyzing project requirements for specific business needs.
We offer custom software development services at a cost that works with your budget. Contact us for custom mobile apps for business today!