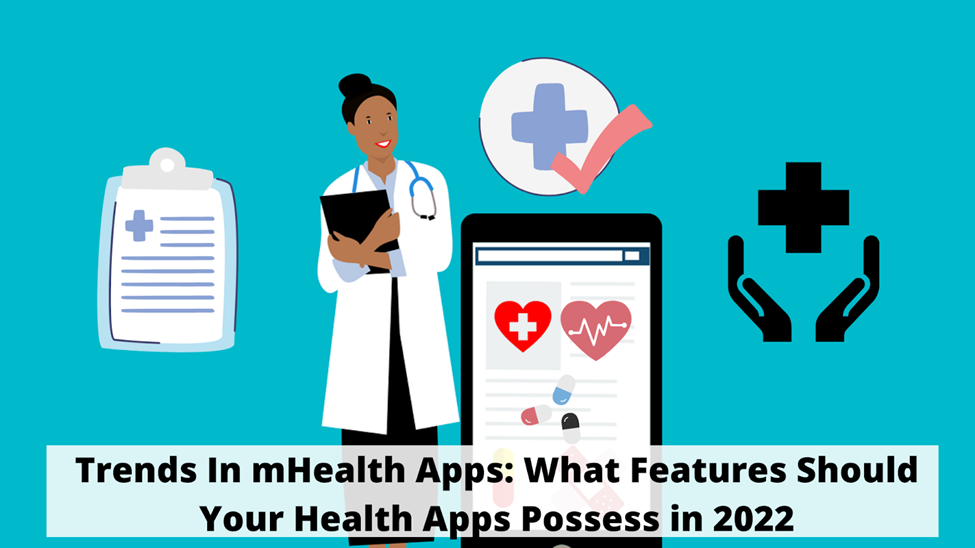 Technology is in a consistent state of evolution and is reaching new heights of development. This, directly and indirectly, affects every possible field that touches our lives. Health care is a key field that occupies a prominent role in our lives. In the day and age of 2022, health care has become our closest aid with the advent of healthcare mHealth apps. While there are numerous healthcare applications, certain healthcare app features are must-haves.
Every smartphone has one or more health apps. So, making a better health app needs far more planning and careful designing. What is a health app? A health app is a mobile application that offers enough insight, guidance and motivation to keep track of your health. Custom healthcare mobile app development focuses on launching a slew of mobile apps that will help both patients and medical professionals by connecting them in the best way possible.
From motivating users to run daily, to making users exercise regularly, to diagnosis, doctor appointment booking, symptoms checking, etc., there are many benefits of mobile health apps concerning various facets of health. To make better health apps, programmers and developers need to take care of many important aspects to create the best app possible, better than the existing ones on the market.
What Features Should Your Health Apps Possess?
These are the eight important healthcare app features you need to make sure to implement while programming and developing a health app:
Better UI Design:
User interface design affects the number of downloaders, users and retention statistics for your app. Try to keep your design simple, striking and effective. Don't complicate it unnecessarily. And whenever possible, try to bring depth and detail. A better UI makes it easy to access, use and return.
Data Security & Privacy:
Health care data will always be sensitive and discretion is a must. You need to provide proper privacy about the customer's health details that are fed into the app. Privacy is essential everywhere; never compromise privacy in a healthcare app and never risk the right of privacy to people in any way.
Create an uncompromising app so that people are confident about the level of data security and privacy your app offers. Ensuring data privacy and security is fundamental in healthcare mobile app development.
Every developer and programmer should remember this while creating an app. Data Security & Privacy are the main features and functions to include while designing a health mobile app.
Include User Involvement Features like Video Consultation With Specialists:
A healthcare application shall offer users an opportunity to have a live consultation one-on-one through video with specialists, as this increases the application's usability.
Users always associate it with the involvement features you add to the app. This shows the level of commitment, support and interest of the app makers, which will be in the users' best interest. If you can add a proper time-to-time video consultation feature, then it is always an advantage.
Health Activity Tracker:
This feature empowers every individual to track their health activities. Imagine you have a lifestyle issue leading to being overweight. You have joined a fitness course and have a fitness regime. Just imagine the level of motivation you will enjoy when you track the positive changes you are bringing to yourself. This also increases the level of consistency.
Streamlined Appointment Registration:
The days of phoning a clinic to inquire about available slots are pretty much gone. One of the most optimal healthcare app features is the flexibility to arrange appointments whenever you want, at whatever time.
Integration with Wearable Devices:
Wearable gadgets such as smartwatches, Bluetooth, etc., have become part and parcel of our daily life. They are making the lives of their users better. People have been encouraging its usage all over the world, so if a healthcare app allows for proper integration of wearable devices, then the level of connectivity and duration of usage of that app will increase. This is one of the vital healthcare app features.
Supporting Multiple Devices:
Depending on convenience and availability, an individual might access an application from different devices. The best medical apps for patients are accessed through mobile devices, smartphones, tablets, laptops, desktops, etc. So, the more devices an app can support, the better its usage and reach will be. Flexibility is the key.
Symptoms Checking & Disease Diagnosing:
These are two vast areas that demand deep diving. But both of these features go hand in hand. Some apps try to offer either symptom checking or disease diagnosis just to avoid the risk of credibility. The symptom checking feature helps you find and assess the possibility of having one or more symptoms from the list provided. The appearance of various symptoms may or may not show signs of the illness.
However, disease diagnosis is more specific; individual evaluation involves a lot of scrutiny and authentic guidance. These main features and functions of the health mobile app help youidentify a positive or negative status for having a particular disease.
Having a doctor's guidance merged into the diagnosis process helps to increase credibility and lowers the risk of an incorrect diagnosis.
Choose the Best mHealth App Features:
Understand the importance of healthcare app features and build health apps that make life better. It's no surprise that a slew of healthcare mobile app development firms are sprouting up. When it comes to choosing a preferred healthcare app development company, you'll need industry knowledge to stay ahead of the competition. Therefore, wisely choose TechRev for all your custom software development needs.