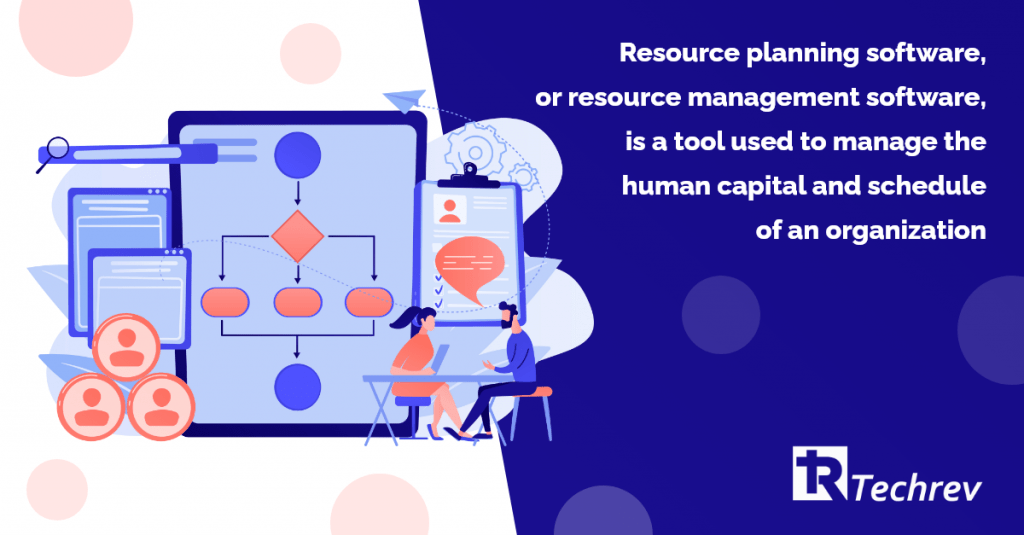 Resource planning or management is a process that allocates and utilizes the right resources to a business project to achieve optimal efficiency. A resource can be anything that is required to execute a task perfectly. Resources include the skill set of employees, applications, assets and utilities.
The primary objective of it is to plan, schedule and allocate the right resources to a project at the perfect time and cost. With a good management process, an organization can have the maximized profitability for a project.
5 Key Components of Resource Management
Scheduling:
It refers to the process of identifying and allocating the right resources to a project where timing plays a crucial role-whether it's for a short-term or long-term project.
Utilization:
It refers to the total resource capacity utilized for a particular project. If it's human resources, it's determined by the time spent by an employee against the total person-hours spent on a particular project.
Forecasting:
A resource manager needs to forecast the utilization level of the resources. Based on the forecasting, an organization can determine whether a project requires additional resources or not.
Reporting:
This is the final component of the resource strategy process. When it comes to finding the actionable insights, without a proper analysis of a resource strategy analysis report it is almost impossible.
The Importance of Resource Management:
Resource strategy is a very crucial part of project management and it strongly focuses on executing more with fewer resources. Waste of resources can be detrimental for any organization and this is exactly where every project needs to have a proper resource managing application and strategy.
Reasons Why Resource Management is Important for Businesses:
Without a resource capacity plan, a project's roadmap cannot be prepared. Based on the project's delivery timeline, a resource capacity plan is prepared so that it can keep the project on the right track.
A well-structured resource management plan ensures a successfully delivered project
With a proper plan, managers can set realistic expectations for the project deliverables among their clients and other stakeholders
It helps project managers to estimate the exact project costs and profit margins
A perfect application enables managers to avoid over or under-utilization of resources
A good application also enables the organization to take the hiring decision at right time based on the resource analysis report
The Benefits of Having a Resource Management:
Proper utilization of resource with resource management:
It allows an organization to make the optimum utilization of resources while avoiding over or underutilization. A resource management plan ensures high team productivity and spirit.
Staying away from uncalled challenges:
It provides managers with an in-depth understanding of the available resources so that project managers can foresee any potential problems.
Better project delivery:
According to recent research and studies, organizations with a good resource management plan and application always deliver projects on time. It also enables businesses to reduce costs and increase profit margins while fulfilling the client's expectations. It also business can easily retain its clients for a longer time.
Improved ROI
Good resource management planning helps an organization improve ROI by not only reducing costs, improving product quality but also, getting repeat business from satisfied clients.
Transparency:
Resource planning software ensures utmost transparency as it gives management visibility into the team's bandwidth.
Conclusion:
Do you want to adopt the best management strategy for your organization? If yes, you are at the right place as we at TechRev have the industry-leading expertise and knowledge on developing a perfect custom resource planning application for your organization. If you want to learn more about our execution process, click here to talk to our custom web and application development team.